It's been a year since Greece's state television station, ERT, was shut down. Photographer Ilias Illiadis says he doesn't necessarily miss the programming, but he definitely wants to participate in the protest on the anniversary of the closing.
Shutting down the station was an arbitrary and undemocratic decision, says Illiadis. He's not alone: Trust in the Greek government has fallen drastically, especially in the culture sector.
The ministry of culture is not at the top the countrsy's political agenda, according to Giorgos Loukos, director of the renowned Greek Festival. Their recent theater, dance and art events were only able to take place with the help of private sponsors, since the festival's budget has been cut by one million euros ($1.36 million), says Loukos.
The subsidies that were finally approved came so late that it was impossible to plan, added the festival director. Major co-productions - like a former cooperative project with the Berliner Schaubühne in Germany - are now a thing of the past.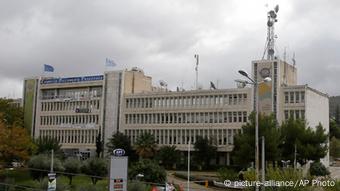 ERT in Athens no longer broadcasts
Nevertheless, Loukos's strong international connections meant he was able to win international stars for the current season, including actress Isabella Rossellini. Loukos also managed to secure new locations for performances and was able to give the festival a younger image.
The Greek Festival makes a point of working with young directors - not only because they cost less, but also because they bring cutting-edge ideas with a sense of zeitgeist. The regional theater in Kavala recently performed a play on unemployment with the provocative subtitle, "Right to Laziness."
Young, dedicated audiences
Despite the increasingly precarious economic situation, many of the performances at this summer's Greek Festival are sold out, says Loukos. Ticket prices, however, are lower than in previous years, and the unemployed pay only five euros per show. The cost of the festival's shuttle service out to the antique theater in Epidaurus has also been discounted.
Audiences are young and very interested - and Loukos says that makes him optimistic.
Afroditi Panagiotakou works at the Onassis Cultural Center in Athens, which supports contemporary and politically engaged productions that would otherwise have difficulty finding funding and stages.
Panagiotakou can't complain about dwindling audiences. The problem, rather, is that there was an "earthquake" in public cultural funding, and private sponsoring is not well established in Greece, she says.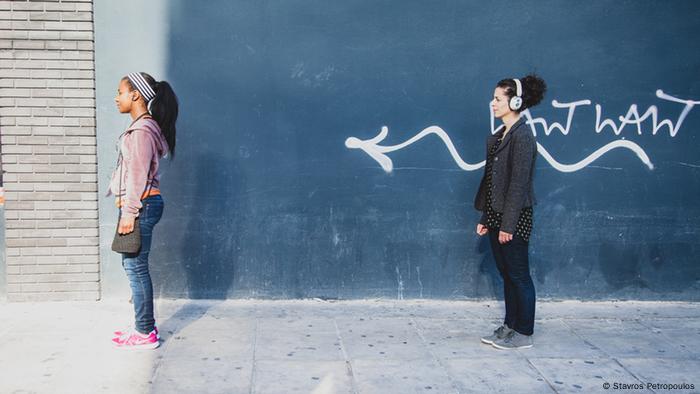 The participatory art performance "No Man's Land" presented a diverse view of Athens
Another recent success for the Onassis Foundation was a theater piece with immigrants by Belgian director Dries Verhoeven. Entitled "No Man's Land," viewers were individually led by guides on personal tours of the city in what was referred to as a "peripatetic performance / political act."
Visitors waited in long lines to take part, recalls Panagiotakou. She says that, considering the political success of the far-right in Europe, events which encourage greater understanding for ethnic minorities are indispensible.
These days, both artists and audiences are more critical and more political than they were several years ago, adds Panagiotakou.
Top priority: survival
Young theater director Anestis Azas, however, holds a different view. He works independently and experienced subsidy cuts as early as 2001. For the past two years, the German-speaking director has commuted between Germany and Greece.
The mood among his theater colleagues in Athens has changed, he said. Most of them are simply focused on surviving. He recalls how he squatted in an abandoned theater with other stage-lovers years ago, but says not much is left of that bygone euphoria. Azas criticizes Greek society for having trouble organizing themselves and taking responsibility.
"You don't understand; you've been gone [in Germany] too long," is a phrase Azas encounters often.
But he sees himself as a European and appreciates the mobility and opportunities for cooperation between German and Greek theaters.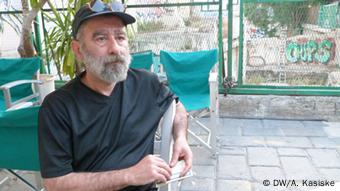 Artist Haralabos Katsatsidis's optimism is tempered
Artist Anna Meli, on the other hand, can't understand the Greeks' euroskepticism. She is completing a master's degree in media art, a new course of study which offers an exchange between Athens and Paris. She is thrilled to be able to spend a year in Paris starting in September.
Many of Meli's Greek friends live abroad, she says, but for her, that's not a long-term solution. During her short stay in France, she hopes to gain new inspiration that she can bring back to Greece, where she says the cultural landscape is inert and poorly organized.
Culture in the works
Contemporary art is in a particularly difficult situation, says Haralabos Katsatsidis, a visual artist living in Athens. The Art Athina fair was a "disaster" this year, he says. Hardly any pieces of art were sold, and the much-hyped VIP tour was scrapped due to lack of interest.
Katsatsidis only sells his large-format paintings abroad. Still, the artist pointed out a few positive developments he's observed as well, including a new art museum to be opened in October and a culture complex being built near Piraeus that's to encompass an opera house and national library. Another project, Re-Think Athens, is also underway, with the aim of making the Greek capital greener and friendlier to pedestrians and cyclists by 2016.
"If it doesn't die on paper, like so many projects," said Katsatsidis of the ambitious Re-Think Athens scheme. The skepticism is visible in his face. Like so many others, all that's left of his trust in the government is quiet cynicism.