Manifesta, the European biennial for contemporary art, has no fixed home. Since 1996, the event has travelled across Europe, with exhibitions focusing on social and economic upheaval.
In 2006, the event was scheduled to be held in Nicosia in Cyprus, which at the time was divided by civil war. And in 2010, it took place in the dilapidated Spanish city Murcia. This year, for the first time, it's being hosted by a city of a former Soviet republic. St. Petersburg is presenting the exhibition's 10th edition, which kicks off on June 28.
Inside the Hermitage
The chosen venue is Russia's most important art gallery, the State Hermitage Museum of St. Petersburg. In hosting Manifesta, the Hermitage is not only marking its 250th anniversary, it's also proving that it is capable of presenting a current collection.
Five years ago, the museum launched the contemporary art program, "Hermitage 20/21," under the auspices of modern art department head Dmitry Ozerkov. The young curator spent one year in Germany on a scholarship from the German Academic Exchange Service (DAAD) and has also curated exhibitions at the Biennale of Venice.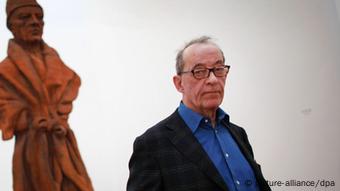 König: 'Curating Manifesta isn't without its challenges'
Ozerkov wanted to contribute something grand to celebrate the Hermitage's anniversary year. He got the backing of the Hermitage Director Mikhail Piotrovsky, and set in motion a process that resulted in the museum's selection as the Manifesta host.
Kasper König, an experienced curator of international standing, was approached to be the curator. He served as director of Museum Ludwig in Cologne, Germany, for 12 years. "An experienced museum man who knows that you need to work diplomatically in an organism as complex as the Hermitage," said Ozerkov.
Calm before the storm?
But no sooner had König accepted the post than the political climate in Russia changed. Around the time he signed the contract, Russia's anti-gay propaganda law was adopted. "Then it became clear to me that I'm working in a country where there is no civil society," König told DW.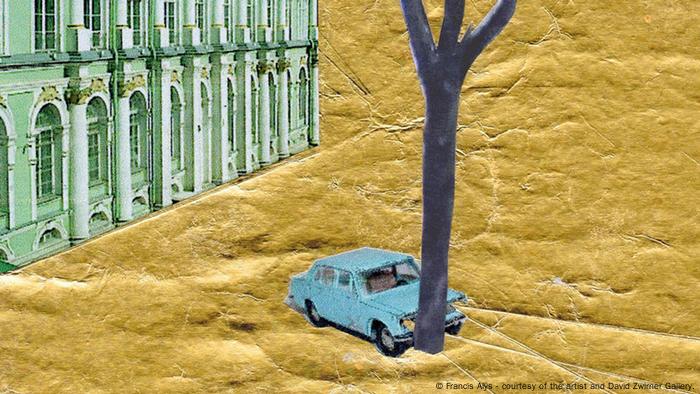 Belgian artist Francis Alys collides with a tree in the Hermitage's forecourt
Since then, artists have twice called for the event to be boycotted. In the fall, a group of young European artists wrote an open letter to the curator, expressing their concern that a prestigious international exhibition like Manifesta could give dictatorial Russia a more liberal image.
Shortly after the Crimean crisis, the Russian art collective "Chto delat?" ("what is to de done?") said they would be withdrawing from the exhibition. But they've since changed their minds, and will now participate in the supporting program.
"A boycott would only make sense if it could make an actual difference," Russian art historian Ekaterina Degot told DW. Unlike the Olympics in Sochi, Manifesta is a small event, and it won't matter to President Vladimir Putin whether it takes place or not, she added.
Great expectations, major problems
The Hermitage, a co-sponsor of the exhibition, hopes to create a dialogue between the old and new. Works by 50 artists, including classic names like Gerhard Richter, Joseph Beuys and Ilja Kabakov, will be on display. König has also invited artists from younger generations - Wolfgang Tillmans, Katharina Fritsch, Francis Alys and Erik van Lieshout - to contribute work.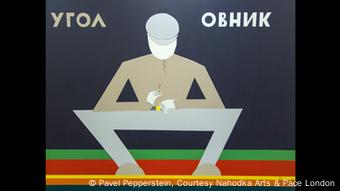 'The Convict' by Moscow-based conceptualist Pavel Pepperstein
The exhibition will be held on two sites: the Hermitage's main building and its new branch in a nearby palace. That's created some logistical challenges for the curator. For example, König had to have some of Henri Matisse's works moved from the old building into the new.
The Matisse hall displays portraits of prominent gay thinkers by South African artist Marlene Dumas. Among them: Oscar Wilde, Peter Tschaikovsky and Jean Genet. Her contribution is considered a protest against the anti-gay law, which has sparked controversy internationally.
Among the local heroes is St. Petersburg performer Vladislav Mamyshev-Monroe, who died last year and was known for impersonating celebrities like Marilyn Monroe.
The Ukrainian photographer Boris Mikhailov is presenting his latest project: A series of photos from Kyiv's Independence Square. Alevtina Kahidze, considered an icon of east Ukrainain art, is also represented. Now in St. Petersburg, she telephones her mother in the war zone in Donetsk every day.
One thing is certain: The ambitious decision to hold the 10th Manifesta in St. Petersburg could well make it the most interesting and complex in the exhibition's 20 year history.