A rapid intervention team from the EU border agency, Frontex, will be deployed for the first time to Greece to help shore up the country's porous border with Turkey, the European Commission has said in a statement.
The move comes after Greece put out an emergency call for the border team, which is to act under Greek authority.
EU Internal Affairs Commissioner Cecilia Malmstroem said she had "immediately activated the mechanism to liaise with Frontex and to communicate among all interested partners, so as to handle this emergency situation in the most expeditious and efficient way."
"The situation at the Greek land border with Turkey is increasingly worrying," she said.
"The flows of people crossing the border irregularly have reached alarming proportions and Greece is manifestly not able to face this situation alone … I am very concerned about the humanitarian situation."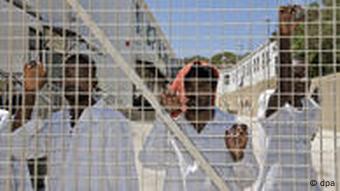 Conditions inside many of Europe's detention centers are considered poor
According to the United Nations, an estimated 300-400 illegal immigrants enter Greece every day, many of whom come from Africa and Afghanistan.
The UN last week called on EU states to do more to lighten the migrant burden on Greece, which it said has created "catastrophic" conditions for refugees.
UN Special Rapporteur on Torture Manfred Nowak described conditions inside Greece's overcrowded detention centers as "inhumane."
An overwhelming majority of the refugees use Greece as an entry point to other European Union countries, and arrivals by land have increased by more than a third in a year.
Last week, Turkey pledged to cooperate with Greece in a bid to control the flow of irregular immigrants making their way into Europe, in exchange for Greece's help in easing visa rules for Turks.
Author: Darren Mara (AFP, Reuters)
Editor: Nancy Isenson