In a statement on Monday, Google said a policy change was in the works which would prevent websites that misrepresent content from using its AdSense advertising network. The company did not detail how it would implement or enforce the new policy.
"Moving forward, we will restrict ad serving on pages that misrepresent, misstate, or conceal information about the publisher, the publisher's content, or the primary purpose of the web property," Google said in a statement.
The company's planned policy change fails, however, to address the issue of fake news or hoaxes appearing in Google search results. Instead, the change aims to assure users that publishers on the network are legitimate and eliminating financial incentives that appear to have driven the production of much fake news.
It was unclear whether the company had adopted a mechanism to rate the accuracy of particular articles.
Ban on 'illegal, misleading or deceptive' content
Facebook, meanwhile, also announced updates to its advertising policies on Monday, restating that its ban on deceptive and misleading content applied to fake news.
"We do not integrate or display ads in apps or sites containing content that is illegal, misleading or deceptive, which includes fake news," Facebook said, adding publishers would continue to be vetted to ensure compliance with the company's advertising policies.
Facebook's measures are limited to its ad policies, however, and do not target fake news sites shared by users on their news feeds.
Role in US election?
The sudden drive for policy changes comes amid an intensifying debate over how much responsibility technology companies bear for monitoring the accuracy of content as more and more people access news through sites such as Facebook rather than directly through traditional media websites.
Google, Facebook and Twitter Inc all came under fire last week over claims that voters in November 8's US election may have been swayed toward Republican candidate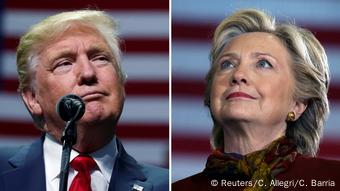 US president-elect Donald Trump and defeated Democrat candidate Hillary Clinton
Donald Trump as a result of false and often malicious information being spread online.
In the last few days, for example, a search for '"final election count" took users, for a time, to a fake news story saying that Trump had won the popular vote. Votes are still being counted, but currently Democratic candidate Hillary Clinton maintains a slight popular vote lead.
Facebook Chief Executive Mark Zuckerberg has strongly denied the claims, insisting twice in the last week that the social networking site had no role in influencing the outcome of the election.
ksb/msh (Reuters, AFP)