The Goethe-Institut announced at its annual press conference on Monday in Berlin that it would be setting up shop in Baku, Azerbaijan and Yerevan, Armenia, in the coming year. The German parliament has reserved three million euros for the branches, which would host language courses and cultural programming.
The organization already runs 159 institutes in 98 countries. Since 1994, it has offered German courses in Baku and Yerevan via accredited partners.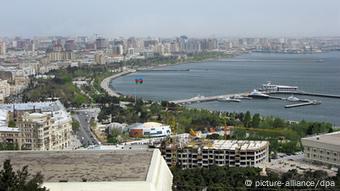 Baku will get an official Goethe-Institut next year
"With our program, we want to support interaction with cultural figures in Armenia and Azerbaijan and create space for new creative exchange," said Johannes Ebert, secretary-general of the Goethe-Institut.
Cultural exchange is also the aim behind the planned expansion of the Goethe-Institut's residence program. In November 2016, the artists' residence Vila Sul, located in Salvador da Bahia, Brazil, became the first of its kind in the southern hemisphere, according to Goethe-Institut President KIaus-Dieter Lehman.
Response to growing nationalism
In light of growing nationalist tendencies in Europe, Ebert said that cultural dialogue can help broaden perspectives and reach those who may have doubts and fears when it comes to an open society.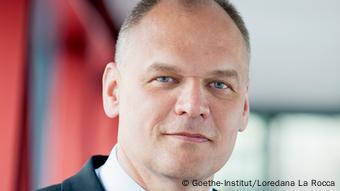 Goethe-Institut's Secretary-General Johannes Ebert
"That's why we want to address young people and those who are positioning themselves against Europe in order to think together with them about the meaning and defense of liberal values," added Ebert.
Angela Kaya, director of London's Goethe-Institut, presented a current art project entitled "Collecting Europe." It involves 12 young artists viewing Europe from the year 4017 and revolves around the question, what's left of it?
"Collecting Europe" will be presented in a week-long festival in February 2017.
Support for Syria
The refugee crisis and the issue of integration remain pressing for the Goethe-Institut. "We want to make sure a lost generation isn't created," said Ebert.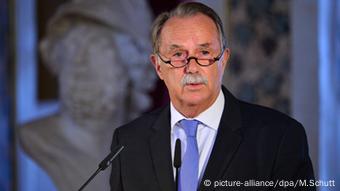 Goethe-Institut's President Klaus-Dieter Lehmann
In addition to supporting artists in Germany who have fled their home countries, the Goethe-Institut has also implemented programs in the countries surrounding Syria, which it was forced to leave due to security reasons in 2012.
Since last year, library buses have been offering books in Turkey and Lebanon, and mobile education centers called Ideas Boxes have been set up in Jordan, Iraq, Lebanon and Turkey.
The Goethe-Institut had a budget of 396 million euros ($418 million) this year, 238 million euros of which came from the German government. Over one-third of its budget it financed by the German course tuition it collects.
kbm/eg (KNA, EPD, dpa)