Fun bars, brand name stores and beautifully restored townhouses line the streets in this trendy part of Berlin - a far cry from the uniform dismal grey that once dominated the district during the era of communist East Germany. Gentrification has clearly taken hold. Here, at a tiny salesroom at 16, Rosa-Luxemburg Strasse, the Goethe Institut has set up a cultural exchange space called "Damascus in exile" - where Syrian and German artists have a chance to meet and mingle for two weeks.
"The Goethe Institute was my introduction to German culture," says Rania Mleihi. In Damascus, the theater director took German classes, met German artists, saw German movies and read German books.
"You people are on time, you're straight-forward," she grins, adding that she really fell in love with Germany.
"History, literature, art and even how you dress - for me, it's all German culture."
"Refugees have something to offer!"
The 33-year-old former director and producer at the Syrian National Theater in Damascus today heads a platform for artists in exile, the Open Border Ensemble at Munich's Kammerspiele theater. Rania Mleihi, whose drama group recently staged a refugee play by Austrian Nobel laureate Elfriede Jelinek, says she feels that she has fully arrived in Germany.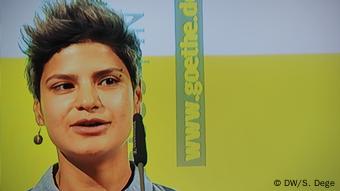 Rania Mleihi has found her place in German society
There's another refugee that people like to point out as a model "Berliner:" Zoya Massud is a young Syrian architect and a participant in the "Multaqa" project - an initiative that saw Syrian and Iraqi refugees trained as cultural guides who can give museum tours to Arabic-speaking refugees. The media fell in love with the project.
"To be a refugee - that's not a stigma," the young woman with the long wavy hair and sparkling dark eyes argues. She goes on explaining that refugees come from different backgrounds, and bring with them a wide range of experience - "they're not simply people who fled their countries. They have something to offer, to contribute to German society. It's a win-win situation," Zoya Massud says.
Cultural exchange in close quarters
"It's all about a dialogue between Syrian and German artists," says Johannes Ebert, head of the Goethe Institut. The Islamic scholar spent a year in the Syrian capital, and later served as head of the Goethe Institut in Cairo for many years. In the wake of the worsening civil war in Syria, the institute's Damascus branch closed in 2012 because it could no longer ensure its employees' safety.
Four years later, the "Damascus in exile" project draws some curious looks: those who venture inside are surprised at the small room that holds nothing but shelves with Arabic picture books, a makeshift counter, a small stage, speakers, and a microphone. But unlike in Syria, the program consisting of debates, readings and films doesn't have to be approved in advance by the Culture Ministry.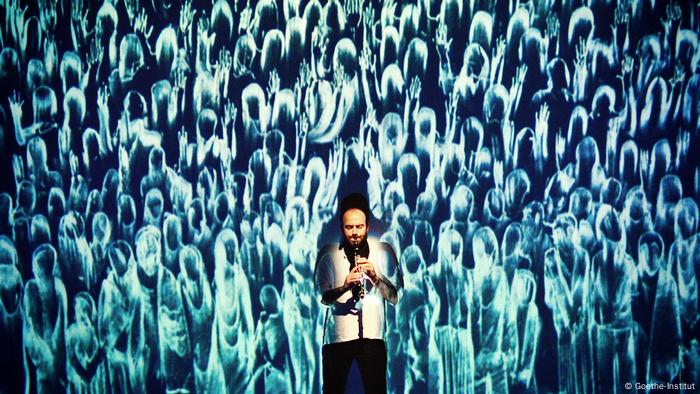 This is one of many acts feutured during the two-week program
Syria's art scene lives on
Diana El Jeiroudi is proud that two of her films are also featured in the program of the Berlin project, including a Syrian-German co-production, "Return to Homs." The 2013 documentary about a "Syrian who challenges everything and everyone" in his quest for freedom premiered at the Sundance Film Festival, and won the Grand Jury Prize there. The 39-year-old filmmaker, who co-founded the DOX BOX documentary film festival in Damascus in 2007, has lived in Berlin these past three years.
"We had to flee because the civil war was getting worse," she says, pleased that she can continue to work in her profession in Germany until the day that peace is restored to Syria, and she can return.
Syria once had a "very lively culture scene," says Muriel Asseburg, a Mideast expert at the German Institute for International and Security Affairs (SWP) - and argues that it lives on, "partially in Syria, partially in exile."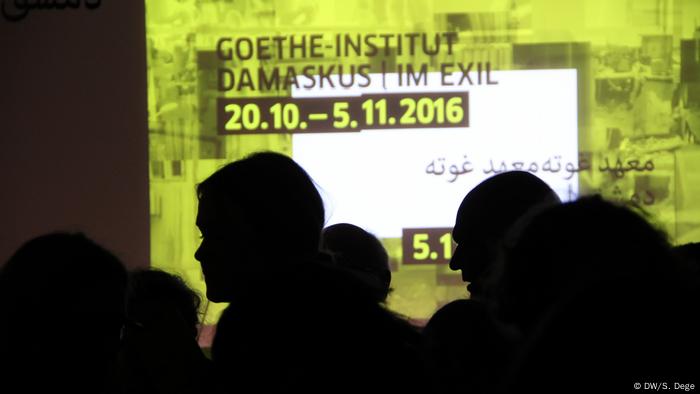 The unusual project draws Berlin crowds into a space the size of an average apartment
The country may be in ruins, Asseburg says, but its culture is certainly not. "The revolution has sparked a lot of creativity," she explains, and lists, among other things, a satirical puppet show that makes fun of President Bashar al-Assad, as well as the many colorful, creative posters displayed on the streets during protests. All of that continues to live on, Asseburg says, adding that "culture is not a one-way street."
Asseburg and Rania Mleihi are thrilled about the "Damascus in exile" project. It is not so much about integration as it is about cultural exchange, the political analyst and the theater director agree:
"We build bridges. Everone who comes here takes a step forward, and so we meet: face-to-face."