Eurosur has come just in time for EU Commissioner Cecilia Malmström: The new border surveillance program will help to save lives, Malmström promised the European Parliament on Thursday (10.10.2013). Some observers hope Eurosur will help prevent refugee tragedies like the one off the cost of Lampedusa. The idea is that ships in distress at sea will be easier to locate and rescue once the European Union has installed the surveillance system, which is to reach from one end of the southern EU border to the other.
But at its core, the European Border Surveillance System (Eurosur) has nothing to do with the tragedy off the Italian coast - it was pure coincidence that the parliamentary vote on Eurosur has come up now. Eurosur had been in planning since 2008, and should go operational in December. That is why the EU parliament had to give it the official green light now.
Meet the new border policy - same as the old one
Malmström very likely does intend to help refugees with Eurosur. But the surveillance system was planned and built to secure the EU's external borders; to make them even more impenetrable. "Eurosur is to serve the battle against illegal migration," said Ska Keller, a Green Party member of the European Parliament. "It's not at all for rescue operations, as is now being portrayed."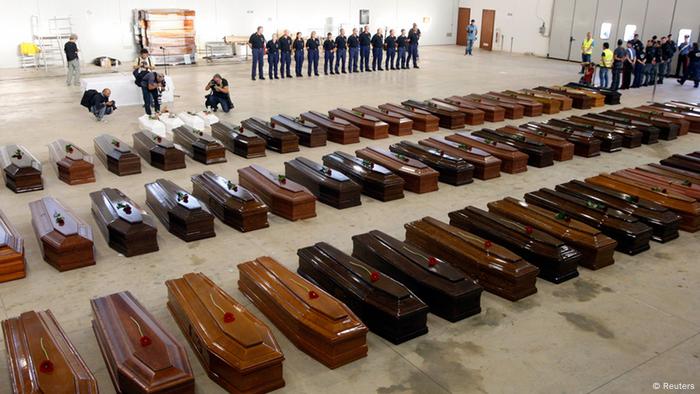 More than 300 people died in the Lampedusa shipwreck
Until now, the European Union's external borders, which total nearly 15,000 kilometers, have been monitored by the national border patrols of EU member states, with support from the European border agency Frontex. In most countries, at least two different ministries are in charge of border security - these often include the interior ministry, the defense ministry and the maritime ministry.
Including EU offices, there are some 50 different agencies involved in preventing illegal immigration. Eurosur links all these different agencies, sets up a standardized communication system and makes sets up common procedures for border observation with satellites and surveillance drones. The European Parliament budgeted nearly 340 million euros ($460 million) for the project over the next nine years.
Hunt for drug and human-traffickers
Instead of using boats to patrol the Mediterranean, the sea will be scoured for suspicious ships from above by satellites and drones. This has the advantage of providing broader coverage and being possible regardless of weather.
All information would flow to Eurosur. For example, if a ship is noticed that has not officially called from any port, Eurosur would contact the national border agency or send a Frontex boat to investigate potential drug or human-trafficking.
"It's not about repelling refugees," said European parliamentarian Markus Ferber. "Rather, it's about running down smuggling gangs - and that needs to be a shared task."
But the criticism is that for refugees and those migrating for economic reasons, the end result is the same: for them, reaching Europe will be even more difficult, perhaps compelling them to take even more dangerous routes.
However, such migrants might indeed have better prospects of being quickly noticed and saved if they run into distress at sea. "I think it's self-evident that if information comes into this system that people are in distress, those people will be helped," said Ferber.
Water and crackers, then turning back
Doubts about the scheme persist. For instance, a boat is only considered in distress when the motor or steering system is broken. As long as the boat can maneuver itself, it's not considered in distress. The questions of whether, for example, a boat is too small and fragile to withstand the next storm at sea, or whether the passengers have enough food and drink, are not addressed.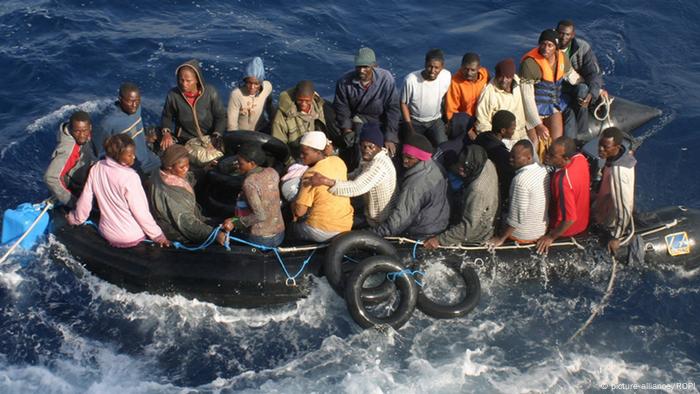 Many migrants have lost their lives trying to cross the Mediterranean in vessels that are barely shipworthy
In one case about two years ago, when a boat in the Mediterranean overloaded with 72 people sent out a distress call, not only fishing boats but also the Italian Coast Guard and even a NATO helicopter responded. But they merely handed over some water and crackers, then turned back. Two weeks later, the boat arrived in Libya - with only nine people left alive.
Green Party members of European Parliament have demanded that Eurosur expressly include rescuing people among its proscribed duties. Because in the end, there is a difference between equipping boats for picking people up and for defense. The same holds for communication systems and deployment control centers.
"We want help for maritime distress to be a goal," said Keller, "so that capacity and maritime rescue can be prepared for - and cooperation be more strongly oriented toward this - than the case is now."
But the majority of the European Parliament has rejected this approach. Many parliamentarians fear that such an orientation could be misunderstood - that migrants would take this as an invitation to cross, and be located by Eurosur and rescued by Frontex.
"The European model can't mean that those who achieve getting close to the European coast have a right to reside in the EU, that they will be assisted," Ferber said. "That would even support the smuggling gangs' cynical business model. That cannot be the task of European policy."