Texas-based agency Harris Media has been hired to run AfD's digital media campaign for the elections, according to media reports.
Founder Vincent Harris, a Christian conservative still in his 20s, has worked on the digital side of "three presidential races," according to his website.
Read more: AfD supporters steal the show at Angela Merkel campaign rally
His firm worked on projects for the Trump campaign in the Republican primaries, as well as for the presidential campaigns of former Texas Governor Rick Perry and former House Speaker Newt Gingrich in 2012. Israeli Prime Minister Benjamin Netanyahu was also a client during his successful 2014 campaign, according to the site.
Harris denies being fired by the Trump campaign and includes Bloomberg News' remark that he was "the man who invented the Republican Internet" as part of his online presentation.
Read more: AfD hands out pepper spray to young women during election campaign
A video project for a neoconservative nonprofit, Secure America Now, before the 2016 US election showed a Germany of the future envisaged as an Islamized state, Cologne's cathedral as a mosque and an Oktoberfest without either pork or alcohol.
According to a report in Spiegel Online, there are three Harris Media employees working at the AfD offices in Berlin.
Part of their mission is to distribute materials online, including the anti-Islam posters designed by Thor Kunkel, the author and advertising creative director, who lives in Switzerland.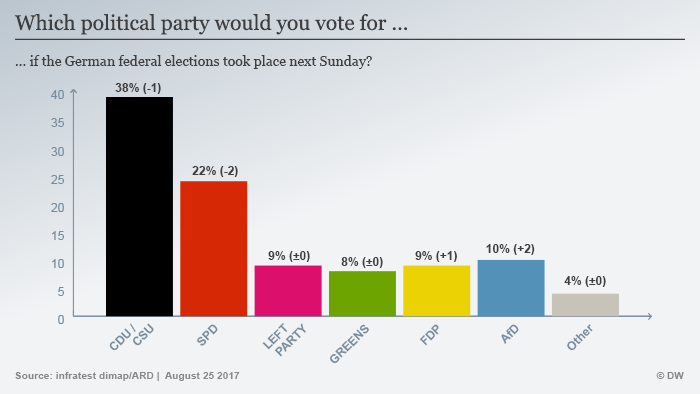 Media buying
While the German offices of Google and Facebook have been less than keen to place adverts from the AfD, the Harris Media people can make some calls to Silicon Valley in the US and then the AfD orders for media space are placed from there and put through to Germany.
Dramatic images on Facebook delivering the AfD message of right-wing populism have helped the party increase the number of reactions received by their posts.
As a way of involving potential supporters, invitations are sent out for fans of the various AfD sites to submit their own videos and to frame their photos with AfD symbols. It appears to be a subtle approach, with simple statements such as "Twelve years are enough," over a photo of Chancellor Angela Merkel appearing on timelines. Only when the image is clicked does it become clear that the AfD is behind the message.
According to the report in Spiegel, some of the ideas by the Harris Media people are a little too hot for the AfD staffers in Berlin. A suggestion of the logo "Germany for Germans," was rejected as being too nationalistic.