The AfD's youth division "Junge Alternative" (JA), clearly thought pens or balloons were too boring, so instead they handed out pepper spray to young women while campaigning in the southwestern town of Bad Kreuznach.
Witnesses from the Greens and the Left party, who were also out on the campaign trail at the time, told local media that JA activists told some young women they could use the spray "to protect yourself against North Africans."
The right-wing populist party confirmed that it handed out 150 cans and stressed that the spray was to fend off animals and should only be used against people in "an absolute emergency," according to a JA spokesman. Handing out pepper spray with the sole purpose of using it against animals is not illegal in Germany.
"Legally our hands are tied," said Heike Kaster-Meurer, mayor of Bad Kreuznach. "But, of course, this is morally reprehensible."
Read more: Ten things you need to know about the AfD
Safety an issue
Nicole Höchst, the AfD parliamentary candidate for Bad Kreuznach defended the giveaways, saying they did not target minors and that the JA simply wanted to point to the precarious security situation in the town.
The JA's controversial gifts come after a night-time curfew was imposed in Bad Kreuznach's parks following repeated fights there between primarily Afghan men wielding knives and baseball bats.
On her Facebook page, Höchst, who is a teacher, said it was "unacceptable that the Greens put their morality above the law" in this case.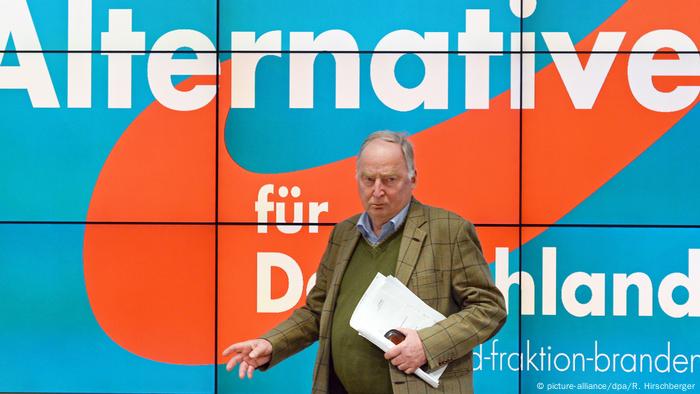 The AfD is no stranger to controversy, with Alexander Gauland at the forefront.
Others in the AfD clearly did not see what the fuss was about either. The regional AfD party in Saarland asked on its Facebook profile: "What's next? AfD is handing out non-halal jelly sweets to kids?"
The news comes hot on the heels of a nationwide controversy surrounding AfD deputy-leader Alexander Gauland. The party's leading candidate for Germany's national elections made headlines when he suggested Germany's integration minister Aydan Ozoguz could be "disposed of" in Anatolia.
Polls suggest the AfD could garner as much as 10 percent in the September 24 elections, which would put it in third place, right behind Germany's two main parties, the Christian Democrats (CDU) and the Social Democrats (SPD).