When asked about the violence on the streets of Cairo, German Foreign Minister Guido Westerwelle pointed out he does not yet have a full picture of the events. "It is too early to draw further political conclusions," he said. The situation is, in fact, quite volatile. The death toll has risen steadily from 300 on Thursday morning to 400 at noon and then more than 500 in the afternoon.
Westerwelle voiced "extreme concern about the news from Cairo," appealing to all political powers to return at once to a dialogue and negotiations. Without going into details, the foreign minister also indicated the attacks would not be without consequences for German-Egyptian ties. Westerwelle is aware of the fact that Berlin's scope of action is very limited. Earlier, Germany's Foreign Ministry summoned the Egyptian ambassador to emphasize the appeal for a peaceful solution to the conflict, while French President Francois Hollande took similar action. Westerwelle also called on Europe's foreign ministers to gather for a crisis meeting to coordinate their response.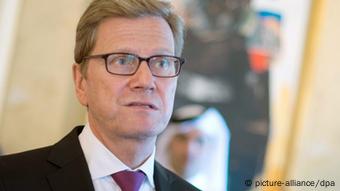 Westerwelle: "Extremely concerned"
International helplessness
The foreign affairs spokesman for the Christian Democratic Party had a more concrete response. In a newspaper interview, Ruprecht Polenz suggested putting economic and financial cooperation with Egypt temporarily on hold in view of the interim government's violent assaults on supporters of the Islamist Muslim Brotherhood in order to "make a statement."
Leftist member of Parliament Jan van Aken, however, dismissed Polenz' suggestion as a sign of weakness. "That's what we always do when problems crop up; we did it with Iraq, Iran and now Egypt. It doesn't help." 'But van Aken admits that for players outside of Egypt, the options for action tend toward zero. "I've been wondering what I would do if I were the government, but I don't think Germany can actively do very much at the moment."
Consequences for tourism and the economy
The German Foreign Ministry has meanwhile issued strict recommendations for German tourists in Egypt, advising special care with regard to the mass demonstrations. The ministry expects the security situation to worsen in Cairo in particular - and strongly discourages its citizens from travelling to Egypt. "I plead with you to follow the travel instructions," Westerwelle said.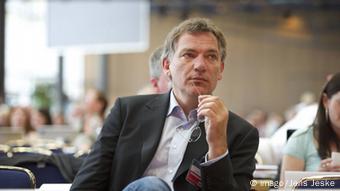 Jan van Aken: "There is not much Germany can do"
The warnings have not had much effect. "There has been no surge of cancellations or re-bookings," a spokeswoman for the Berlin-based German Travel Federation (DRV) said.
According to the Reuters news agency, the German-Arab Chamber of Industry and Commerce has closed its offices in Cairo and Alexandria. The situation is alarming and the logistics of everyday life don't work in such a situation, Volker Treier, a senior official at the German trade association DIHK told reuters. Speaking to the DPA news agency, Treier stressed, however, that German businesses do not plan to withdraw from the country.