The assembly annually elects five new, non-permanent members to two-year terms to replace the five members that will leave the council at the end of December. The 10 rotating seats are divided among five regions around the world.
Proposals to expand the Security Council have been under discussion for more than a decade.

"If there is an enlargement, we will be part of it," said Joschka Fischer ahead of the annual UN General Assembly debate.
The country is increasingly optimistic about its chances of acceptance.
A sound record
In recent years, Germany has gained a solid reputation as a nation fully in support of multilateralism in foreign policy decisions.
The argument that Germany once was Europe's economic power house seems to feature little in the drive by German policy-makers for a permanent seat on the 15-member UN Security Council. Looking back at more than three years of economic recession and breaches of the EU Stability Pact, politicians in Berlin are concentrating instead on the plus points Germany has earned internationally in the conflict over the Iraq war.
A useful addition
Opposition conservative defense spokesman Volker Rühe told a public television station Wednesday that if the Security Council is to strengthen its multilateral approach to conflict resolution, Germany has to be taken on board as a permanent member.
"I'm convinced that our push for a permanent seat will be successful in the end," he said. "There's no doubt left that the United Nations will be reformed, and I think that before the end of next year, Germany can gather enough votes in its favor to be represented in an enlarged Security Council."
"We're widely known as a country that always makes a point of acting along multilateral lines," he added. "I truly believe that we can add some power to that international body as a permanent member."
Resistance to German ambitions
Social Democrat defense expert Hans-Ulrich Klose agreed, but wasn't ready to discount the resistance that Germany might face in its bid for permanent membership.
"Germany's never had a bigger chance to become a permanent member than now. Over the past few years, this country has gained an international reputation as a nation fostering the concept of multilateralism," he pointed out. "But there's no denying that there's resistance to Germany's ambitions also from within Europe."
Germany's anti-war position didn't make it popular everywhere. "Italy and Spain, for instance, have always viewed Germany's drive for a permanent seat in the Security Council with a great many reservations," observed Klose. "I can imagine that Britain and the United States will have their misgivings too because of Germany's stance on the Iraq war."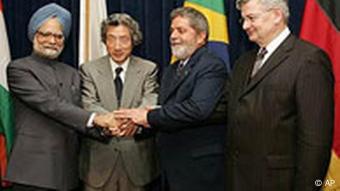 Indian Prime Minister Manmohan Singh, left, Japanese Prime Minister Junichiro Koizumi, second from left, Brazilian President Luiz Inacio Lula da Silva, second form right and German Vice-Chancellor Joschka Fischer shake hands Tuesday Sept. 21, 2004 in New York.
Acknowledging other nations' interests
Japan, Brazil, India and Germany formed a lobbying group in New York aimed at helping each other gain permanent seats on the Security Council. And Hans-Ulrich Klose says that if Germany really thinks internationally, it must also acknowledge other nations' interests.
"It's all about making the Security Council more representative regionally," he stressed.
"This is why countries such as India and Brazil have a legitimate interest in becoming permanent members. The enlarged Council should also take in a country from Africa -- South Africa or Nigeria perhaps, and an Arab country as well," he argued.
"Only then can the international community seriously debate whether it would be willing to accept a third European country in addition to France and Britain, which are unlikely to give up their seats."
Brussels rather than Berlin
Hans-Gert Poettering is the parliamentary speaker of the conservative European People's Union. He believes that nothing is gained by making Germany a permanent member of the Security Council. He views such a scenario as the continuation of a decades-old "national interests-first" policy which would only cement Europe's division for a long time to come.
Instead, Poettering strongly advocates a joint seat for the European Union on the Security Council as the best way to communicate the continent's foreign policy agenda. His critics argue, though, that this would presuppose a common European foreign policy stance on the most important issues -- something that the EU is still far from achieving.