Germany's opponent at the Stade de France in Paris on Thursday are a team they know well - and vice versa. The next-door neighbors may have faced each other just 20 times in their shared history, but many of these encounters have come over the past decade.
Most recently, the two teams squared off in Euro 2016 qualifying. Poland took the first game 2-0 in Warsaw in the autumn of 2014. But Germany got their revenge just under a year later with a 3-1 victory in Frankfurt that saw them finish top of their group.
Germany have the historical upper hand in this fixture, with 13 wins and six draws. That defeat in Warsaw was the only time Poland have come out on top.
Still, based on last year's split in qualifying and other good results in recent years, Germany know all too well not to take Poland lightly.
Great strides
"The Poles have made great strides in recent years. Many of their players are playing abroad and they have lots of young players coming through. It's the most dangerous opponent in the group for us," veteran attacker Lukas Podolski told reporters at the German team's base camp in Evian-les-Bains on Monday.
Asked what Thursday's match would mean to him personally, Podolski, who grew up in the Cologne area of western Germany but was born in the southern Polish city of Gliwice, said it would carry more weight for him than most.
"It's a special game for me, anyone who knows my story knows that. I have a lot of friends, relatives and family who live there," said Podolski, who just finished his first season with Galatasaray in the Turkish league.
"Personally, I hope we win the group and Poland finish second," he added.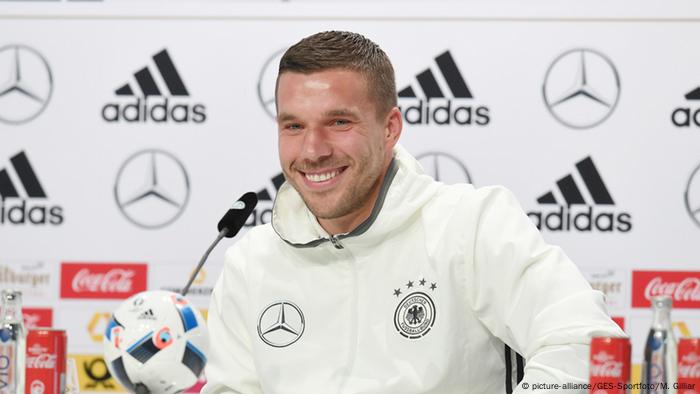 Lukas Podolski: "Ready when the coach needs me."
Despite his exuberant attitude and obvious qualities on the pitch, with 17 goals and 10 assists in all competitions in 2015-16, the 31-year-old Podolski is not expected to see much action on the pitch in France. If and when he does, though, the Galatasaray man pledged that he was match fit and "I'll be there."
Familiar foe
The players who are expected to start are just as aware of Poland's qualities, and know that taking the full three points will require them to put in a shift.
"Of course we know Poland a little bit better (than the others)," Thomas Müller said. "Poland will play on the counter attack. They don't have the one-on-one players, so they are more of a classical counter-attack team."
Müller is just one of a number of German players who are set to come up against their goal-poaching teammate from Bayern Munich, Robert Lewandowski.
Bayern goalkeeper Manuel Neuer described Lewandowski as a "world-class striker," but warned that he also has a number of talented teammates capable of causing any defense some trouble.
Asked at Monday's press conference in Evian whether their familiarity as club teammates would work in his or Lewandowski's favor, Germany defender Jerome Boateng said it was a non-issue.
"We have played against each other often enough, we play with each other. I don't think there is any advantage or disadvantage. He knows me, I know him," he said.
Hummels to return?
One advantage Germany may have compared to Sunday's opener against Ukraine, though, is the likely return of first-choice central defender Mats Hummels. The former Dortmund man, who has signed a deal to move to Bayern this coming season, has declared himself fit after laboring for weeks with a calf injury.
Thursday's match will come at one of the scenes of last November's deadly Paris attacks, which took place as Germany were playing France in a friendly at the Stade de France. However, every Germany player asked about their feelings about returning to St. Denis has played down any security concerns, saying that they are completely focused on the task at hand.