German Foreign Minister Frank-Walter Steinmeier (L. in above photo) on Monday voiced concerns about the recent flare-up around Crimea following Moscow's claims that Ukraine recently attempted armed incursions into the region.
"In recent days there has been a spike in tensions around Crimea and that has worried us," Steinmeier said at a news conference with his Russian counterpart Sergei Lavrov in Russia's fourth-largest city of Yekaterinburg.
"The main thing is that the situation doesn't get out of control. We call on everyone to de-escalate," he said.
'Evidence of incursions'
Lavrov echoed Steinmeier's comments, also calling for "restraint."
"For now, the main thing is not to give in to emotions, not to slip into taking some extreme action, but to try to stabilize the situation with restraint and concentration," he said, adding, however, that Moscow would take "comprehensive measures to make sure any attempts to make incursions into our territory are nipped in the bud."
He also said Moscow could present more evidence to back its claims - flatly denied by Kyiv - that Russian forces last week thwarted "terrorist attacks" in Crimea by Ukrainian military intelligence, with one officer and a soldier dying in clashes.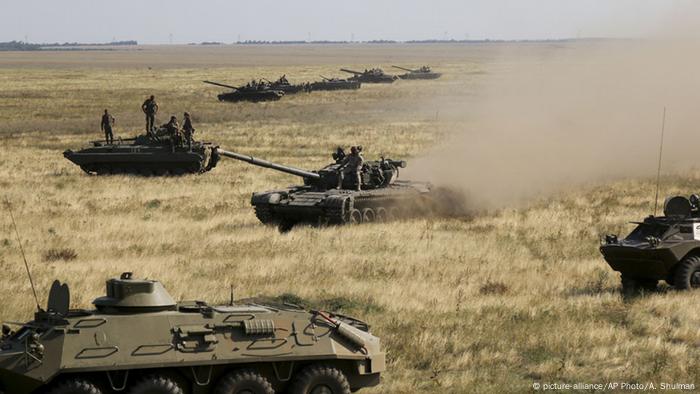 Ukraine put its troops on combat alert near Crimea on Thursday
'Ukrainian provocation'
Russian President Vladimir Putin has accused Ukraine of using "terrorist" tactics to try to provoke a new conflict over the region, which Moscow annexed from Ukraine in 2014 after justifying the move with the results of a controversial referendum among Crimean residents.
The accusations have raised the already high tensions between Russia and Ukraine, which are caused not only by the annexation, but also by Kyiv's belief that Moscow is giving active support to pro-Russian separatist rebels who have waging an insurgency in eastern Ukraine since April 2014.
Both Steinmeier and Lavrov said that the European-brokered Minsk peace accords should remain the focus of the peace process in the troubled region, though Russia and Ukraine each accuse one another of not honoring the obligations laid out in the agreement.
Lavrov said Russia remained committed to the Minsk peace plan, which was agreed by the leaders of Ukraine, Russia, France and Germany in the Belarusian capital in February last year.
Simmering conflict
Steinmeier said he and Lavrov had discussed the possibility of restarting peace talks with the same participants, despite Putin last week appearing to reject the idea of holding a new round of talks on the sidelines of a G20 summit in China next month.
Nearly 9,500 people have died since pro-Moscow rebels began their insurgency against the Kyiv government in April 2014.
Kyiv and the West have both accused Russia of deploying troops across the border and giving other support to the insurgents, but Moscow has always denied the claims.
tj/rc (Reuters, AFP, AP)