German prosecutors in state of North Rhine-Westphalia began an investigation into Mossack Fonseca's business over a year ago, according to reports published by the daily "Süddeutsche Zeitung" and German public broadcaster NDR. The Panama-based law firm's name appeared on a CD of files prosecutors bought from an anonymous source for nearly 1 million euros ($1.14 million).
While the recent Panama Papers data leak is considerably larger than the information stored on the CD, it was enough for German authorities to begin an investigation into Mossack Fonseca, Süddeutsche and NDR reported, adding that the inquiry was ongoing and that it remained unclear whether sufficient evidence would surface to file charges against the law firm, which focuses on setting up offshore companies.
Less than a week after the Panama Papers revelations of alleged tax evasion and other illegal offshore financial activity, the fallout has had global consequences and sparked public outrage at how the wealthy and powerful hide money and avoid paying taxes.
The prime minister of Iceland has stepped down and the cache of documents has also implicated Ukrainian President Petro Poroshenko, associates of Russian President Vladimir Putin, relatives of Chinese President Xi Jinping and British Prime Minister David Cameron, new FIFA President Gianni Infantino and sports stars including Argentine soccer great Lionel Messi.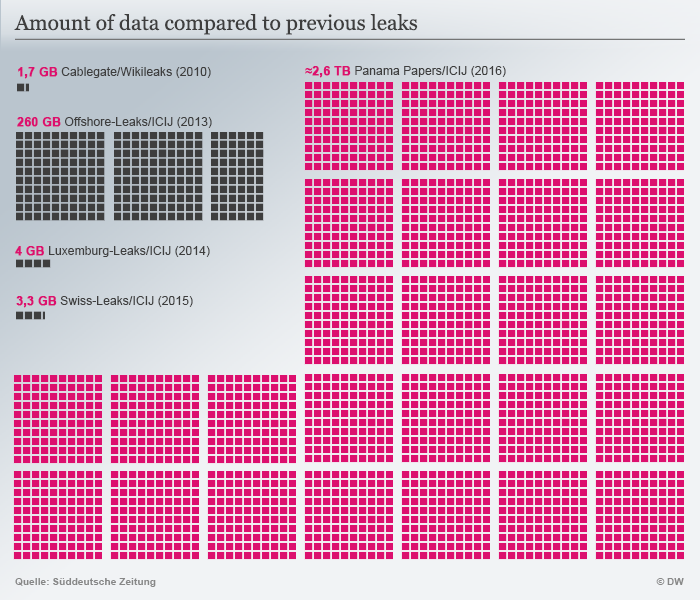 Several countries, including Germany, said they would investigate the 11.5 million documents unveiled in the leak obtained by the "Süddeutsche Zeitung." The paper then shared the information with over 100 media organizations in the International Consortium of Investigative Journalists (ICIJ).
Several German banks have submitted briefs to tax authorities warning of Mossack Fonseca's possible role as an accessory to tax evasion, according to information obtained by "Süddeutsche," and public broadcasters NDR and WDR. Since authorities bought the CD of financial data, several Germans have admitted to hiding money from tax officials, and Germany's Commerzbank has paid fines of 17.1 million euros ($19.4 million). HSH Nordbank and Hypo-Vereinsbank have each paid 20 million euros for aiding and abetting tax evasion.
Tax evasion annually costs Germany about 50 billion euros, Thomas Eigenthaler, head of the German Tax Union, told Germany's ARD public broadcaster.
Mossack Fonseca files hacking complaint
For its part, Mossack Fonseca has denied any illegal activity and filed a legal complaint with Panamanian prosecutors on Monday.
"Nobody is talking of the hack, and that is the only crime that has been committed," Ramon Fonseca said on Tuesday, according to the AFP news agency.
Fonseca added that the law firm had evaluated technical data and concluded it was hacked by "servers abroad." He told The Associated Press that indications pointed to the hack originating in Europe.
The law firm and Panama's government have stressed that offshore companies are not illegal and that Mossack Fonseca was not responsible for how its clients used the companies.