The Venice Biennale art exhibition opened Saturday in the northern Italian city with a ceremony that saw Germany receive the top prize, the Golden Lion, for best national contribution.
Germany's pavilion - as each of the 89 national contributions is called - features works by Christoph Schlingensief, the esteemed German artist who died last August of cancer.
"The Biennale in Venice with its awarding of the Golden Lion to the German pavilion has honored the work of the exceptional artist Christoph Schlingensief, whom we still painfully miss and whose work will continue to influence well into the future," Cornelia Pieper, minister of state in Germany's Foreign Ministry, said.
The United Kingdom was awarded the Silver Lion for its pavilion and the award for top artist was given to the American Christian Marclay for his installation "The Clock."
Schlingensief pavilion
The venerated German director and artist was asked to design Germany's pavilion in 2010 but passed away in August before his plans could be realized. The work was finished posthumously by pavilion curator Susanne Gaensheimer and Schlingensief's wife Aino Laberenz.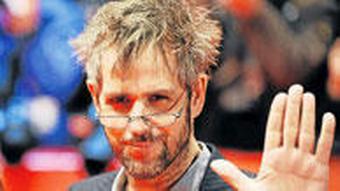 Schlingensief was known for controversial actions
"I wanted to choose someone who represents what's going on artistically in Germany in a critical way," Gaensheimer told Deutsche Welle when asked why she chose Schlingensief to design the pavilion.
"Until his death last year, he had taken on such questions intensively for three decades - first as a filmmaker, then in theater and finally in the artistic arena, and as a political activist throughout."
As an artist Schlingensief is known for serious productions such as the film trilogy "Deutschlandtrilogie" (Germany Trilogy), and controversial actions such as "Foreigners out! Schlingensief's Container," a TV production - in mockery of the popular show Big Brother - in which real asylum seekers holed up in a container in Vienna competed against one another to avoid being voted out of Austria.
Author: Gabriel Borrud (AFP, dpa)
Editor: Andreas Illmer