Germany's federal prosecutor reportedly issued an international arrest warrant for Syria's Air Force Intelligence chief, Jamil Hassan, for "crimes against humanity," German weekly Der Spiegel reported on Friday.
The warrant alleges that Hassan ordered his forces to torture, murder and commit sexual crimes against hundreds of detainees in Syria between 2011 and 2014.
The charges reportedly filed by Syrian lawyer Anwar Al-Bunni and journalist Mazen Darwish. Together the pair spoke to dozens of men and women who claimed to have been tortured by Hassan's forces before successfully fleeing Syria. The warrant is also based on thousands of photographs of images of torture victims taken by a military photographer known simply as Caesar.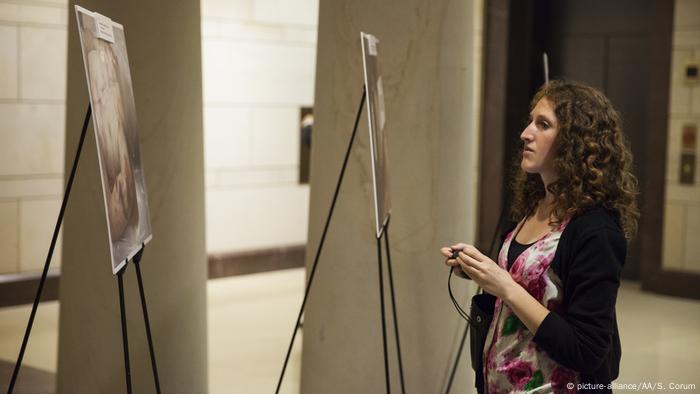 Caesar's photographs depicting Syria torture victims went on exhibition in New York City in 2015
The European Center for Constitutional and Human Rights (ECCHR), a human rights group, welcomed the warrant, describing it as a "historic step."
"The arrest warrant against Jamil Hassan is good news for all those affected by Assad's system of torture: for the survivors, for the relatives and for those who are still imprisoned by the Assad government in Syria," ECCHR Secretary General Wolfgang Kaleck said. "Germany is prepared to make its contribution to the legal reappraisal of these serious human rights crimes."
Read more: Syrian filmmaker Firas Fayyad: 'The White Helmets made me believe in humanity'
A spokesman for the German federal prosecutor's office refused to comment on the warrant, but judiciary officials familiar with the investigation told Spiegel that, despite the chances of detaining Hassan any time soon being slim, "we want to get this man."
Hassan is said to be a prominent member of Syrian President Bashar Assad's inner circle. After being appointed head of the country's Air Force Intelligence in 2009, Hassan allegedly consolidated its reputation as the country's most brutal military arm.
A world-first legal case
The German prosecution's warrant marks the most serious effort to date by a Western nation to hold a ranking member of the Syrian regime to account for carrying out war crimes against Syrians.
German judiciary officials have investigated allegations for rights abuses and war crimes by Syrian officials for several years. Activists have called on European justice authorities to act, given that is effectively impossible to launch legal proceedings against the Syrian regime inside the country itself.
Read more: Opinion: Trump, Assad and international law
According to international law, genocide, war crimes and crimes against humanity can be prosecuted anywhere, no matter where the acts were committed.
However, Syria is not a member of the International Criminal Court, meaning it cannot be tried there. It could, in theory, be tried before the UN Court of Justice, although any move to do so would almost certainly be vetoed by Russia on the Security Council.
DW editors send out a selection of the day's hard news and quality feature journalism. You can sign up to receive it directly here.
dm/kms (dpa, Reuters, epd)