China has become the nation with the largest number of Internet users worldwide: More than 500 million people are surfing the net, and about 250 million of them use microblogging sites similar to Twitter. Twitter itself, as the word's largest service of this kind, is blocked in China - and so is the world's largest video platform, Youtube, along with the most popular social networking site, Facebook.

The vast frontier of the Internet is cut through by the Great Firewall of China, a complex apparatus of censorship and site-blocking. Blocked sites include a wide array of news providers, such as DW's online service. According to Reporters Without Borders, China currently has at least 68 activists locked away in prison due to things they published online.

Nonetheless, Germany and China have agreed to take up the topic of civil rights and legislation in the digital age during the 12th German-Chinese Rule of Law Dialogue on July 16 and 17 in Munich. After all, in spite of its many restrictions, the Internet in China has created new spaces for discussion and exchange of opinions.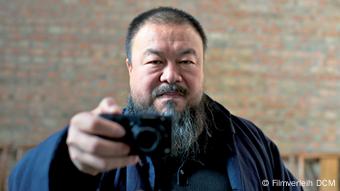 More than 150,000 followers on Twitter: Chinese artist Ai Weiwei
Unproductive, cowardly?

The Rule of Law Dialogue consists of a series of symposiums, which feature high profile guests from politics and academia. Frequently, the event's roughly 100 participants include the ministers of justice of both countries, including in 2012.

The first dialogue was held under the direction of former German minister of justice Herta Däubler-Gmelin.

"You really can't afford to give up easily; things take their time. A lot has happened in the area of legislation, but often the implementation still lags behind," Däubler-Gmelin said in an email interview with DW.

Criticism and doubts about the dialogue accompany it each year: Some human rights activists dismiss it as cowardly - a way to keep the discussion about human rights behind closed doors and out of the streets.

The same criticism can be heard in China. Zhang Sizhi, one of the county's most prominent legal experts, said: "This dialogue has been going on for so long already. But what results has it delivered? Even among legal experts, the forum is almost unknown - let alone among everyday people!"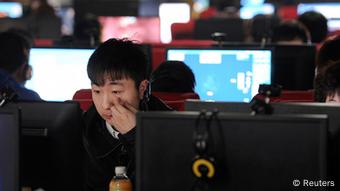 Chinese site Weibo now requires users to give their real names
Advances mostly in commercial law

In 2010, China researcher Katja Levy published a 400-page study on the German-Chinese Rule of Law Dialogue. In it, she lists certain advances, but they have mostly been in the area of commercial law. When it comes to constitutional and human rights, Levy identifies significant short-comings.

According to its own constitution, China is a socialist constitutional state. However, what the constitution says on paper differs greatly from how it is implemented - a topic of discussion in China, as well, as the Heinrich Böll Foundation found out in the run up to the Rule of Law Dialogue. In a publication, the foundation quotes media analyst Hu Yong on the regulation of the Chinese Internet: "The constitution is valued less than national law, national law less than bureaucratic decrees, the decrees of ministries less than those of certain subordinate departments, and, in the end, it's always the individual party official who has the last word."

German-Chinese Rule of Law Dialogue last focused primarily on the Internet in 2003. On its website, the German Ministry of Justice politely speaks of "common ground and productive tensions" between the legal systems of the two countries.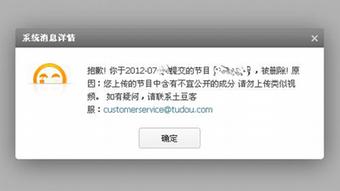 Censorship in action: a video has been deleted
Jailed German on the agenda?
This time, when German Minister of Justice Sabine Leutheusser-Schnarrenberger meets her Chinese counterpart Song Dahan, it might be the case of 32 year-old art shipper Nils Jennrich that results in "productive tension." The German businessman has now been held in a Beijing prison for two months without trial.

The exact nature of the charges he faces remains a mystery, and a release on bail has been denied. Expectations are high that the German minister will address Jennrich's case at the conference.

Author: Matthias von Hein / ag