Fake zebra crosswalks and parking bays have been causing traffic jams and consternation in the German town of Eppertshausen near Darmstadt after they appeared on two downtown streets overnight.
Evidence that a crime had been committed was there in black and white.
In a country known for its strict adherence to rules of the road, local authorities wanted to make it clear that this kind of buffoonery would not be tolerated.
"This is no trivial offense and we do not find it at all funny," a police spokesman said, before it was announced that the culprit had been apprehended.
The mayor of the small community of 6,000 people was also irate.
Although the crossing was clearly made with spray paint and had no straight lines, Mayor Carsten Helfmann said it was still a safety issue for children and the elderly, who may not be able to tell that it was an illegal crossing or parking space.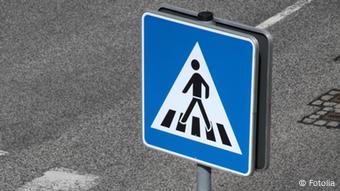 Germans are reputed to be sticklers for the rules when it comes to crossing roads
Foreigners in Germany are used to being chastised if they dare to cross the street on a red light, so it was unsurprising that the incident was widely reported to great outrage across German media outlets.
Local police were able to declare that they had caught the vandal on Wednesday, and that he had promptly admitted to his crimes.
Although no motive has been forthcoming, a spokesman said that "one reason could be that the effects of alcohol played a role here."