His gaze wanders to the other side of the glass screen as soon as he enters the courtroom in the higher regional court in the western German city of Dusseldorf.
The tall, slim man with the short blond hair and the trimmed beard seems a little lost. Then, as his mother, aunts and sisters arrive to support him, his relief is palpable. He raises his hand to greet them, a slight smile on his face.
Then Thomas K. sits down, shoulders hanging. He seems nervous and tense. When Judge Lutz Bachler addresses him at the opening of the trial, he stumbles over his words several times. Could this man, whose body language shows so much uncertainty, really be a cold-blooded Taliban bomber?
The prosecution is convinced that he is. The trial, which started in mid-October, does not take place in the court's main building, but a few kilometers away in the sealed-off high-security wing, a massive concrete block with a heliport on the rooftop. It is where terror suspects face their judges.

Mentally ill or guilty?
Thomas K. is accused of membership in a foreign terrorist organization, a violation of Germany's ' War Weapons Control Act', as well as attempted murder. When he first spoke, the defendant pointed out that he suffers from "schizophrenia and depressive episodes."

The two experts who examined K. extensively, however, have come to a different conclusion. According to their final report, Thomas K. suffers from a "combined personality disorder with schizoid features". Or, put simply: He finds contacts with others challenging and has difficulty acknowledging and being aware of his own feelings.
From a psychiatric point of view, however, his liability is neither "diminished" nor "revoked," explains Norbert Leygraf, one of the psychiatrists involved.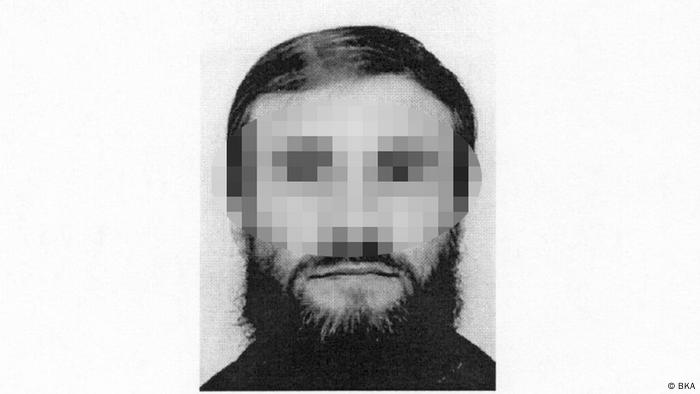 German federal police released this photo of Thomas K. in 2014
How it began
In August 2012, Thomas K. left for Karachi in Pakistan, carrying a return ticket in order to disguise his plans. In a region bordering Afghanistan, he then joined the Taliban. Five and a half years later, in February 2018, Thomas K. was arrested in the southern Afghan province of Helmand during a night raid by Afghan and US soldiers. Weapons were also seized.

He was then questioned for several weeks, first at Bagram Air Base north of Kabul, then in the capital. In April, officers from Germany's Federal Criminal Police Agency (BKA) picked him up and brought him back to Germany.
The BKA had already issued a warning about Thomas K. in late 2014. At the time, the UN mission in Kabul spread the warning via circular mail. It said that "German passport holder Thomas K. may well approach international compounds, possibly to conduct a suicide attack."
Read more: The high price of Afghanistan's broken democracy
Straight after the arrest in February, Afghan authorities suspected they were dealing with a Taliban "military adviser." German media headlines referred to Thomas K. as a "Taliban terrorist" and "presumed Taliban elite fighter."
The defendant interprets jihad as a "Muslim version of German military service", psychiatrist Leygraf explains in court. Thomas K. wanted to support the Taliban' s "struggle for liberation," as he regards them not as a terrorist organization but a "civil war party." The expert adds that Thomas K. had not shown any sense of guilt.
Thomas K. was born in Poland, but mainly grew up in Germany. He describes his childhood as "normal." When he was 16 years old, his father died. A few months later, the teenager converted to Islam. In court, Thomas K. describes how he first sensed an "inner conflict," which has plagued him ever since.
The German armed forces, the Bundeswehr, rejected him due to his psychological problems. Over the following years, he underwent clinical treatment twice. Thomas K. has no vocational training whatsoever, only a lower secondary school certificate. In 2006, he was classified as unable to work.
But Thomas K. is now desperately looking for a task or a job that would give him a sense of direction. He joins a Muslim aid organization in the western city of Worms, where he adopts a radical, Islamist view of the world.
The convert is targeted by German counter-terrorism investigators, but later manages to leave for Pakistan unhindered.
Looking back on this period of time, Thomas K. describes a growing urge to be able to live Islam "as purely as possible" - in a way that "would not have been possible in Germany," as he puts it.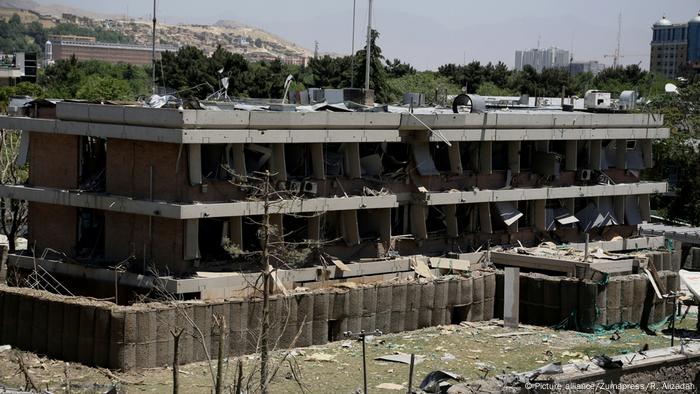 It's not clear whether Thomas K. helped orchestrate the attack on the German Embassy in Kabul in 2017
Terrorist or just a follower?
Hamburg-based criminal scientist Daniel Zerbin specializes in profiles of terror suspects. He remains skeptical about Thomas K.'s statements and views them largely as "neutralization strategies to mitigate his guilt." In addition, says Zerbin, "the duration and nature of K.'s involvement clearly indicate that he was a respected member of the Taliban."
Thomas K. even joined up with the infamous Haqqani network. Among many other bombings, the terrorist group is believed to be responsible for the massive truck-bomb attack on the German Embassy in Kabul on May 31, 2017, in which more than 150 people were killed.
K.'s name appeared on a list of potential suicide bombers. He admits in court that he wanted to build a remote-controlled vehicle to orchestrate an attack on a US military convoy. He underwent driving training, having fun "speeding on gravel roads." However, the driving instructor was "not so happy" with his driving skills, which is why he found himself suddenly at the bottom of the list of possible assassins.
Difficult to prove
Thomas K. describes how he then started looking for a new task. He found it in what he calls "media work." He planned on producing a "documentary film" on the Taliban, partnering with Yassin Chouka. The German-Moroccan brothers Yassin and Mounir Chouka from Bonn were well-known jihadi propagandists, who were also based in the Pakistani-Afghan border region.
Filming began in the summer of 2014. Thomas K. himself appeared on camera while firing a mortar grenade at an Afghan army camp. The mortar missed its target but back in Germany the incident led to the charge of "attempted murder."
Read more: Opinion: Hope for Afghanistan's democracy lies with voters
Who came up with the idea of the film? Who took part? Why did Thomas K. himself fire a grenade? The prosecutors keep asking as they haven't seen the footage. What happened to the material remains unclear. The Chouka brothers moved on to Syria in 2014. Yassin is assumed to have died in Iran one year later, Mounir is missing.

The hare, the hedgehog and the bang
Thomas K. himself brought up the alleged propaganda video during his interrogation. The prosecution is largely relying on the defendant's testimony, as many aspects cannot be independently verified. This lack of clear evidence is what makes this trial so difficult.
K.'s public defender Yorck Fratzky told DW that K. had decided to confess in court and that this willingness to cooperate was based on a "process of rethinking," which had already started in 2015.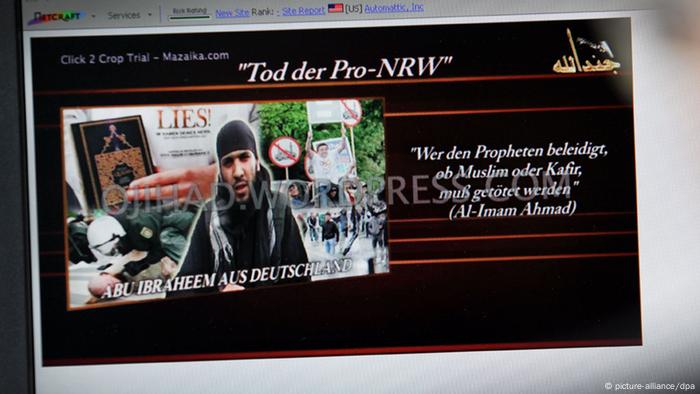 Islamist Chouka had called for the death of 'Pro-NRW,' a German far-right group
Thomas K. is hoping for a reduced sentence. "What I did back then was a mistake," he admits. "I have distanced myself from everything but the media work."
He claims he never intended to hurt anyone with the mortar grenade and that the attack was only supposed "to scare" the Afghan soldiers.
There is silence in the courtroom as the terror suspect goes on. "I wonder about what I've done, when the explosion happened. I might have killed insects by soundwaves, maybe even rabbits or a hedgehog. I will have to answer for this on Judgment Day."
A question of credibility
Without noticeable emotion, K. watches from behind bulletproof glass as five BKA police officers enter the witness stand. They are the officers who interrogated him in Afghanistan and Germany and dealt with him for hours. When describing Thomas K., they all use the same adjectives. The accused had been "friendly," "open," "polite," "calm" and "thoughtful."
"Did you believe him?" the judge wants to know. The BKA officials don't hesitate. "It all added up to a coherent picture," one of them replies. "Yes, I bought his story," says another. "I believed him," a third one adds.
The verdict is expected in December. At the end of the fifth day of the trial, presiding Judge Lutz Bachler addresses the defendant directly. "I am going out on a limb here, we don't regard you as a top terrorist," but "let's face it, you didn't just steal plums, either." The sentence will depend on the credibility of German Taliban member Thomas K.
Editor's note: Deutsche Welle follows the German press code, which stresses the importance of protecting the privacy of suspected criminals or victims and obliges us to refrain from revealing full names in such cases.