Smartphones, laptops and tablets are making life easier for teenagers and young children, who prefer typing or photocopying class notes rather than writing them by hand. But this trend is worrying some teachers in Germany. According to a new survey, children in German schools are increasingly having problems printing letters on paper.
The study, conducted by the German Teachers' Union (DL) and the Schreibmotorik Institute which researches the body's motor functions while writing or graphomotor skills, analyzes data from more than 2,000 teachers around Germany.
According to the research's findings, 79 percent of teachers are worried about their students' worsening handwriting. Around 51 percent of boys and 31 percent girls have problems scripting with their pens and only around 38 percent of students are able to write by hand for 30 minutes without any problems.
An essential skill
What makes writing by hand so important in today's digital world? "Those who can write well and adeptly are better able to concentrate when memorizing things they have written, and are more actively engaged in the task. They write more conscientiously and engage more fully with the content of the written words," Josef Kraus, President of the German Union of Teachers says in the published study.
Apart from the effect writing has on concentration, the simple act of holding a pen and scribbling on paper is a skill that needs to be fostered, especially in growing children. "Increasingly, we are seeing children with problems in basic motoric skills," Christian Marquardt of the Schreibmotorik Institute writes in the research.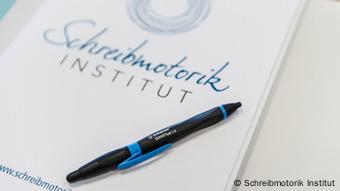 The survey by Schreibmotorik Institute and the German Union of Teachers surveyed over 2,000 teachers in Germany for their opinions on children's handwriting
The teachers union holds the new education policy responsible for this flaw. Fill in the blanks, multiple choice tests and "a barrage of photocopies" in the classroom are reasons why children don't concentrate on taking down notes anymore, Kraus of the teachers' union says.
No room for imagination
A lack of focus on writing by hand has reduced children's creativity, says Duriya Hashmi, a Bonn-based journalist and mother of two boys. "When my children work with workbooks, they seem to be imitating more, rather than thinking for themselves," Hashmi says.
"When you use a pen or pencil and write on paper, you create something, you think on your own. Ipads and computers make things easy. There is already a pattern that's set for the kid," she emphasizes, adding that introducing children to writing in their early years helps foster their graphomotor skills.
Most teachers who participated in the survey concur with Hashmi. They feel that focusing exclusively on writing by hand may not be such a bad idea, considering that students' motor skills when it came to scripting has dropped significantly in recent years.
'It's a different world'
"Children have never liked to write, let's put it that way," Anna Katharina, a secondary school teacher in the western state of North Rhine Westphalia says. However, secondary school examinations in Germany are still written by hand and that, for teacher Anna Katharina, is more than enough for school students.
A child's inclination towards writing also depends on age. "A 5th grade student is always slower and not very motivated towards writing…It's a different world out there," the teacher adds, where writing by itself, including writing letters or postcards has become very rare.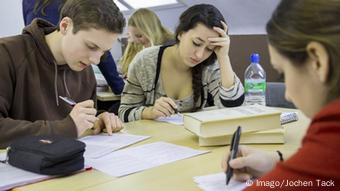 Schoolchildren usually write more than an average person in today's technology-driven world
The world of messaging and online chatting with spell checks has also changed the way students pick up languages, Katharina explains. Children can now learn vocabulary or look up a word in online dictionaries. "In fact, students with bad handwriting can now hand in their typewritten texts and not worry about the teacher not understanding them," she elaborates.
Learning to write is very important, say more than 98 percent of the teachers who took the survey led by Schreibmotorik and the German Union of Teachers, but considering that modern learning aids makes life easier for many children, using technology may not be a bad idea.
As a parent, Duriya Hashmi would like to strike a balance: "I think, to some extent, it's important to use new technology, but in the beginning, in their early years, kids must learn how to read and write."