Dedicated training, nerves of steel, scientific appreciation of aerodynamics -- there are many factors that combine to allow the world's ski jumpers to fly through the air with the greatest of ease. But few would consider the extreme practice of starvation as one of the main components of a jumper's training regime. Yet claims from German jumper Frank Löffler that he was forced to drastically lose weight is at the center of the latest sporting scandal that is gripping Germany.
Löffler revealed earlier this week that his career went into freefall when a directive from the German team effectively forced him to starve to remain competitive and set him on a slippery slope of dramatic weight loss.
"I was given an ultimatum to starve myself from 72 kilograms to 68 kilos," 23-year-old Löffler said in an interview with German magazine Der Spiegel. "But there was no way I could do this. This has nothing to do with ski jumping any more but battling the scales. It has become clear to me that our system is sick."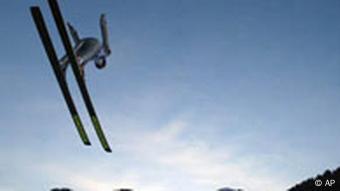 Löffler confided to the Bild Zeitung tabloid that many ski jumpers lived under "permanent terror." In an interview with the paper he said he was only allowed 1,200 calories per day. "That is what a man needs if he does no exercise at all. But I had to train."
However, the German Ski Federation (DSV) has rejected Löffler's accusations, saying that he was suspended from the team in the summer for disciplinary reasons and added that his performances were not good enough anyway.
But the scandal took another turn on Wednesday when Reinhard Heß, the former coach of the German national ski jumping team, came out with more revelations in an interview with Bild. Referring to the experience of fellow German ski jumper Sven Hannawald, Hess admitted that Hannawald had been in danger of becoming anorexic a few years ago, saying his health had been "endangered" and that his weight loss had pushed him physically and mentally "to the border."
Less was more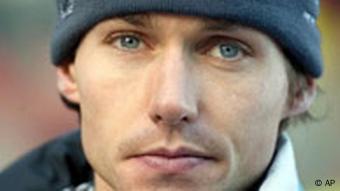 Sven Hannawald.
Heß explained that Hannawald's rising star in the world of ski jumping began to wane when "he succumbed to the morbid vision: light flies far, even lighter flies further." Hannawald (photo) returned to training for the 1999/2000 season already seriously under weight and as a consequence suffered from colds and flu throughout the season, eventually losing out in the challenge for the ski jump world championship through illness.
After many discussions, Heß said Hannawald was persuaded to move to a higher weight class and in the following winter had "the season of his life," becoming the first jumper to win all four events at the "Four-Hills" tournament, the sport's showcase competition.
However, despite the revelation of his charge's own weight problems, Heß was at the same time adamant that no jumper had been forced to starve and that it was the ambition and the demands jumpers put on themselves that could lead to health threatening behavior. "It is about fame and a lot of money. Therefore, these sportsmen go to the limits," he said.
The scandal comes just a few days before this year's Four Hills tournament starts on December 29 in Oberstdorf, Germany. But it is a debate that is far from new in a sport in which weight matters, with many of the top competitors standing over 1.80 meters and weighing just over 60 kilograms.
Weight strictly controlled
DSV team doctor Ernst Jakob told the Reuters news agency that the ski jumpers were strictly controlled medically to avoid any eating disorders. "The fact that the athletes are relatively tall and weigh relatively little does not mean there is a health danger in terms of eating disorder," he said. "The sport's doctors are very careful to minimize the risks for athletes through regular medical checks," he added.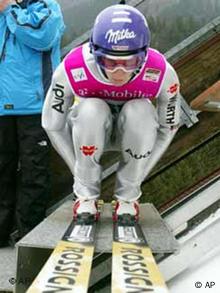 Martin Schmitt.
Martin Schmitt (photo), Germany's four-time ski jumping world champion, accepts that there are health dangers in the sport due to weight pressures and has suggested that new rules should be introduced to stop competitors from starving themselves to gain an advantage. Schmitt has proposed the introduction of a counterweight for lighter athletes and the introduction of shorter skis while the heavier jumpers would have longer ones.