Germany's national rail operator Deutsche Bahn plans to make the largest investment in its history between now and 2014, according to a company official on Saturday.
The company will invest some 41 billion euros in its operations, 75 percent of which will be spent on enhancing the rail network and modernizing the stations, with the remainder for acquiring new trains, the company's technical director Volker Kefer said.
"[Deutsche Bahn] plans to purchase up to 300 new high-speed 'ICX' trains to succeed the current ICE model, he said.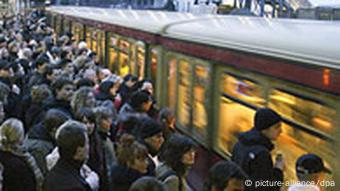 Deutsche Bahn transports millions of Germans daily
Kefer added that an extra 400 electric trains would be acquired for regional transport as well as 600 buses for local travel.
With these investments, "travel times will be shortened, trains will be more reliable and punctual, and they will be more comfortable," he said.
Deutsche Bahn is currently undergoing extensive international expansion, recently acquiring expansive contracts in the United Arab Emirates and Qatar.
In April it acquired Arriva, one of Britain's top transport firms, in a bid to "strategically reposition" itself in the European transport industry.
Deutsche Bahn employs around 240,000 people, three-quarters of whom are based in Germany. Revenues last year were just under 30 billion euros.
In Germany alone, the rail company has 34,000 kilometers of track and transports more than seven million passengers by train and bus.
Author: Gabriel Borrud (AFP, dpa)
Editor: Andreas Illmer