The sun is shining, temperatures are rising - for those in the Northern Hemisphere, summer is just around the corner. Many people will soon be enjoying the warm weather at outdoor pools - swimming and lounging poolside with friends or family. But those tempted to take a selfie in their new swimwear should beware, at least if they are in Germany. Many public pools in the country prohibit taking pictures on their property. And while this rule has been around for decades in most places, some pool managers have taken a harder line amid the ubiquity of cell phones with high-quality cameras and waterproofing.
No phone cameras allowed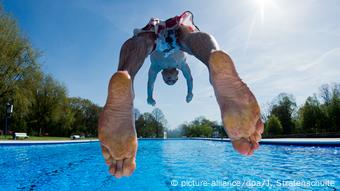 Most outdoor public pools in Germany open between April and May
A public pool in Offenbach, near Frankfurt, recently made headlines with its new policy on mobile devices. People are forbidden from using their phones or tablets on the property unless they cover all cameras on the device with a bright red sticker, distributed for free by lifeguards.
Matthias Wörner, who heads Erste Offenbacher Schwimmclub, the organization in charge of the pool, said he introduced this policy primarily to protect children using a new kiddy pool that opened this summer. He is worried people might take photos there and distribute them "on WhatsApp and the like." He told DW that all photography is banned because it's often hard to check what people are taking pictures of - "we can't rule out that while someone claims to be taking a picture of their own child, they might have their lens on another child."
He added that the policy was also intended to protect the personal rights of adults: "Imagine someone who might carry a little too much weight - they wouldn't want their picture to make the rounds around the internet."
People who do not abide the ban will be asked to leave the premises and might be banned from the pool.
Protecting privacy
The use of stickers or other methods to block cameras, such as specially-designed seals, has become increasingly common at public pools in Germany. Holger Ditzel, who runs Lens Seal, a Germany-based company that produces seals for cellphone cameras, told DW that roughly a dozen pools in Germany had bought their products, which are usually used in corporate and government offices to prevent espionage. Ditzel said their seals were used mostly by indoor water parks with nude spa and sauna areas, but also some outdoor pools.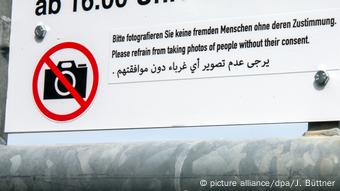 German law forbids taking and distributing other people's pictures without their permission
German law forbids photographing other people and distributing their pictures without their consent, but almost all public pools in Germany also feature a photo ban in their code of conduct to make it easier for pool attendants to interfere. The city of Munich has completely banned taking photos at its pools. Other cities, such as Bonn, ban taking someone's picture without their permission. According to the Süddeutsche Zeitung daily, Berlin is currently the only German city without an explicit photo ban, but a spokeswoman for the public pools of the German capital told DW that they are currently updating their code of conduct to include just such a ban.
Few cities have completely banned cellphones themselves or made camera seals mandatory. "We do not try to keep people from taking pictures, that's not realistic," the Berlin pools spokeswoman said, adding that lifeguards would intervene if somebody acted in a conspicuous manner. She added that classes on how to spot pedophiles and deal with them were part of a mandatory bi-yearly training for lifeguards and pool attendants. "But the focus is more on exhibitionism, groping, hitting on kids, because these things are bigger problems at outdoor pools, to be honest," she said.
Certain exceptions
For those worried an innocent selfie or family photo might soon get them banned from their favorite swimming spot, the representatives for pools that prohibit taking any photos contacted by DW said that the policy might not always be strictly enforced.
"Taking photos of yourself, your family or friends is tolerated" at Munich's public pools, said Michael Solic from Stadtwerke München, a public company that operates swimming facilities throughout the city.
That sentiment was echoed by Offenbach's Wörner. "If there's a group of people huddling together, arm in arm, obviously just trying to take a selfie with their friends, no pool attendant will say anything," he said.