Police on Tuesday searched a flat in Cologne, as they investigate Monday's
attack and hostage-taking at the city's central train station, with the perpetrator already in custody and severely wounded following his arrest.
They said they were not ruling out terrorism, as multiple witnesses told the police that the suspect had claimed allegiance to "Islamic State" during the attack. The man is a 55-year-old Syrian with a criminal record, officers said. The man remains severely injured in a Cologne hospital; a police spokeswoman said on Tuesday that she did not have any updates about his condition.
Authorities have also urged the public to upload footage and photographs taken during a hostage-taking situation to an online portal as they search for more clues into the attack.
What happened:
On Monday afternoon, a man threw a Molotov cocktail into a McDonald's at Cologne's central train station, injuring three people, including one seriously. An eyewitness told DW that a young woman fled the restaurant with her legs on fire. The attack triggered the fast food restaurant's alarms and sprinkler system.
Shortly after, the man took a female hostage at a nearby pharmacy. Police were immediately notified of the situation and deployed special commando units and a negotiation team to the scene. The man allegedly demanded the release of a Tunisian woman.
After establishing contact with the man, who appeared to be wielding a pistol, police stormed the pharmacy. During the operation, the man sustained a serious gunshot wound. The female hostage was freed and received medical attention afterward for light injuries.
Police combed the railway station, a major travel hub for Germany and Western Europe, to search for any other improvised explosive devices (IEDs). During their search, they discovered the identity documents for a 55-year-old Syrian migrant with a German residence visa valid until 2021.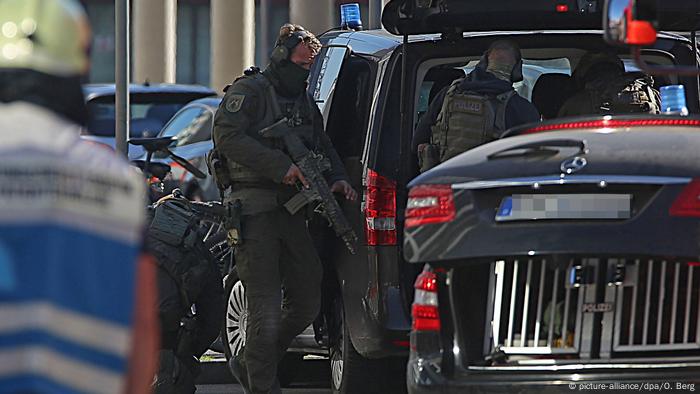 A highly-trained special police unit was deployed to secure the station and end the hostage-taking situation
What happened to the suspect?
The man received life-threatening wounds when special police commandos stormed the pharmacy. Medical staff successfully resuscitated him shortly after police ended the situation.
According to police on Tuesday, he is in stable condition and receiving medical attention at an intensive care unit.
Read more: 'Germany needs a national strategy' for radicalization prevention
What happens next?
Police said on Tuesday that the investigation was "running at full speed." Forensics specialists have taken samples from the train station in a bid to find out more about the attack and its perpetrator.
Each evening at 1830 UTC, DW's editors send out a selection of the day's hard news and quality feature journalism. You can sign up to receive it directly here.
ls,es/msh (dpa, AFP, AP)