Protestant church leaders strongly criticized the actions of a right-wing extremist group on Saturday after they occupied a church tower in the western German city of Dortmund.
"We feel it is disrespectful to abuse our church for right-wing propaganda purposes," Ulf Schlüter, the superintendent of Dortmund's Church of St. Reinold where the occupation took place, told German news agency DPA.
"There is no place for racism here," Schlüter emphasized.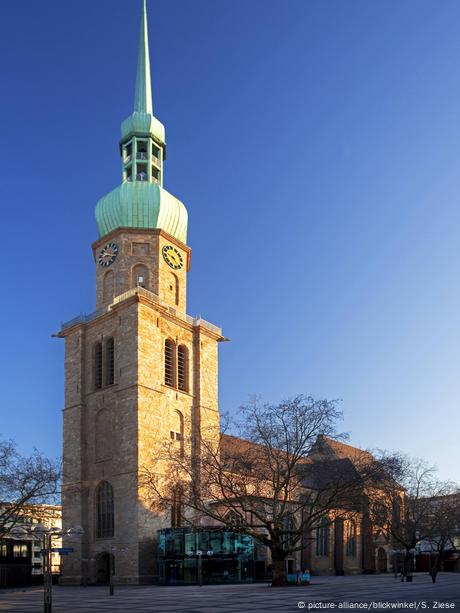 The neo-Nazis lit flares and shouted far-right slogans from the church tower at the Christmas market crowds below in Dortmund's city center
The neo-Nazi group barricaded themselves in the steeple of the Lutheran church on Friday at 6:40 p.m. (1740 UTC), Dortmund police said in a statement.
They hung a banner from the tower parapet, lit flares and shouted right-wing slogans down at the bustling Christmas market crowd below using a megaphone. The neo-Nazi group also appeared to light fireworks from the steeple in a picture circulating on social media.
Police used force to break through the barricade with the help of Dortmund's fire department and ended the illegal occupation, a police statement said.
Authorities also took action against other far-right extremists who were gathered around the outside of the church, some of whom were passing out flyers.
Eight of the right-wing extremists in the church tower, who were already known to police, were arrested but later let go from police detention.
Suspects released from custody
Seven men from the German cities of Dortmund, Chemnitz, Wuppertal, and Düsseldorf were detained along with one woman from Dortmund, police said in a second statement. An additional three right-wing extremists outside the church were also detained on suspicion of being connected to the church tower occupation.
All were released later that night as there were no grounds for detention, police said after consulting with the Dortmund prosecutor's office. They added that grounds for detention include the danger of re-offending, flight or the suppression of evidence.
Authorities added that the investigation into the group is still ongoing, but they are being probed for property damage and disturbance of a religious practice.
"We stand for a peaceful togetherness in Dortmund," said local pastor and speaker of the Dortmund working group against right-wing extremism Friedrich Stiller in comments cited by the German protestant news agency EPD.
The group's Islamophobic stances are incompatible with the positions of the protestant church, Stiller emphasized.
The church tower occupation took place as people gathered at the city center for Dortmund's Christmas market - billed as one of the largest in Germany.
Since the 1970s and 80s, neo-Nazi groups in the Ruhr valley, where Dortmund is located, have managed to spread their messages and recruit new members by feeding off of discontent over a lack of once-plentiful factory jobs.
rs/jm (AFP, dpa, epd)