There has been a cautious reaction in Berlin to the military's seizing of power from President Robert Mugabe in Zimbabwe late Tuesday.
Germany and its EU partners have also urged military leaders to hold back and "refrain from resorting to violence in the current situation in Zimbabwe," Foreign Ministry spokesman Rainer Breul said, calling on all parties to work together to reach a peaceful solution.
For many years, Zimbabwe and Germany had enjoyed stable relations. In 1982, for example, German Chancellor Helmut Schmidt praised Mugabe, then the prime minister of the nation he had helped liberate, as having made a key contribution to "Zimbabwe's peaceful and successful independence."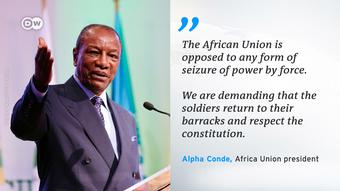 The friendship ended in 2000, when armed groups drove out white farmers and bullied opposition leaders with Mugabe's blessing. Meetings between German and Zimbabwean leaders were kept to working-level after that, and development aid was mostly shelved.
With Germany's support, in 2002 the European Union barred members of Mugabe's government from entering EU territory, froze their bank accounts within the bloc and imposed an arms embargo. Mugabe remained in power and expanded Zimbabwe's economic ties with China instead. When the nation's finances eventually collapsed and inflation skyrocketed, he blamed the sanctions. Following the military's takeover, some German politicians are discouraging the government from imposing any new penalties.
"Europe and Germany should not impose new economic sanctions," Stefan Liebich, a lawmaker for the Left party, told DW. "It's the last thing Zimbabwe needs," he said. "In the past it hasn't brought the country a single step forward." Instead, Liebich suggested that Germany could assert its influence as a creditor, making future loans to Zimbabwe conditional on a peaceful change of power.
Liebich also said the African Union (AU) and the Southern African Development Community should become more involved in whatever happens next. For its part, the AU has so far held back. "We are convinced that Zimbabweans will respect the constitution and that the succession of President Mugabe will be democratic," AU Chairperson Alpha Conde told DW on Wednesday.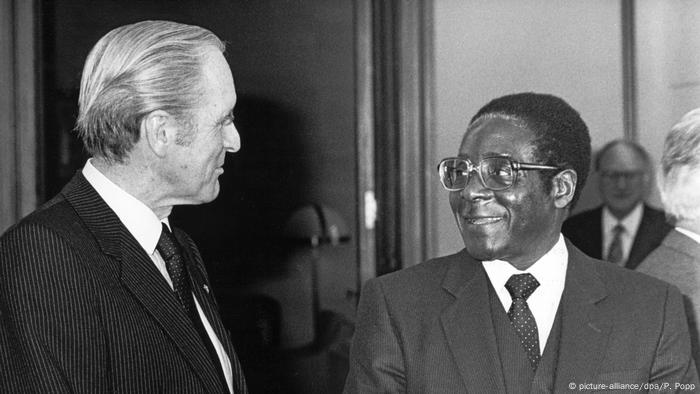 German leaders such as President Karl Carstens (left) welcomed Mugabe in the 1980s
'No immediate change'
Much remains up in the air. Should former Vice President Emmerson Mnangagwa move to the fore, little would have been won from a German point of view. For decades, the defense and security minister bullied the opposition. In the 1980s, he was responsible for military operations against the Zimbabwean people. Mnangagwa supported Mugabe's authoritarian rule without criticism.
Martin Rabanus, who chairs the Bundestag's working group on southern Africa, noted that Zimbabwe's political system has existed for nearly four decades in its current form. "Should the vice president, who was fired by Mugabe, become president, there will be no immediate change because he was part of the system for years," Rabanus told the public broadcaster SWR.
Aware of the fact that EU nations have little contemporary leverage over Zimbabwe, Germany's government is not officially applying any political pressure while it observes the fallout from the military's takeover.
"British Foreign Minister Boris Johnson was right when he said there's a chance for democracy — but not if one undemocratic change follows the other and one tyrant replaces the other," the German government's Africa commissioner, Günter Nooke, told the public broadcaster Deutschlandfunk.