As Zimbabwe remained in the dark as to its political future on Friday, President Robert Mugabe made his first public appearance since being put under house arrest by the military earlier this week.
Mugabe attended a graduation ceremony in the capital, Harare. A witness from the Reuters news agency saying that he was cheered as he opened the ceremony.
His appearance comes as calls for him to step down from his post continue to grow.
On Friday, the leader of Zimbabwe's war veterans association, a powerful voice in the country's politics, said Mugabe must step down at once and called for huge street protests against him on Saturday.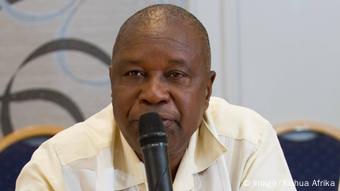 Mutswangwa: Mugabe "must leave"
"The generals have done a fantastic job. It's done, it's finished," Christopher Mutsvangwa told a press conference in Harare.
"There's no going back about Mugabe. He must leave," he added.
Opposition leader Morgan Tsvangirai has also called on Mugabe to resign.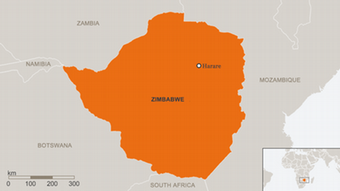 Sudden takeover
The crisis surrounding the 93-year-old president came to a head when the army seized control of the country on Wednesday. Mugabe was put under house arrest in his compound in Harare, with the military taking over state television and blocking key roads. On Thursday, however, state-run television showed the president meeting with military Commander Constantino Chiweng at the State House, where he apparently also met with South African envoys. The report said the talks on resolving the crisis were ongoing. Mugabe poses with General Constantino Chiwenga at State House in Harare on Thursday
The photos in a state-run newspaper showed a smiling Mugabe shaking hands with Chiweng. The two men were meeting with South African Defense Minister Nosiviwe Mapisa-Nqakula and her Zimbabwean counterpart Sydney Sekeramayi.
Sources quoted by the AFP and Reuters said that Mugabe was refusing to resign, despite the mounting pressure.
Read more:
- Could Zimbabwe's ex-VP Emmerson Mnangagwa become its next president?
- Zimbabwe takeover: Difficulties of navigating the media jungle
- Zimbabwe coup: China's influence under scrutiny
Earlier, South African President Jacob Zuma told the parliament in Cape Town it was too early to take a "firm decision" on a political situation that will shortly "be becoming very clear."
Hopes for peaceful resolution
African Union President Alpha Conde told DW the army should restore constitutional order and that the Union in "no case accepted the seizure of power by force."
Opposition leader Morgan Tsvangirai called on Mugabe to resign.
Despite the political chaos, people in Harare began to return to their normal lives on Thursday as schools and shops remained open in the capital, though soldiers remained posted outside key government buildings.
The army has made its presence felt in Harare
The commissioner for peace and security from the African Union, H. E. Smail Chergui, told DW that the AU hoped for a peaceful resolution.
"I think, as we speak, the parliament is still in force. (...) The government is working and there is no sign of violence. [...] we hope that the SADC (Southern African Development Community) will succeed in defusing the tensions," he said.
The SADC is a Botswana-based intergovernmental organization that aims to promote political and security cooperation among 16 southern African states, including Zimbabwe and South Africa.
Controversial sacking
The current crisis in Zimbabwe comes on the heels of weeks of political upheaval after Mugabe sacked his former vice president, Emmerson Mnangagwa, who was hugely popular in the military. The move made it all but certain that 52-year-old Grace Mugabe was positioning herself to succeed her husband.
While Mugabe has been heavily criticized for rights violations, to many he is also the hero of the country's independence struggle against Britain and a provider of stability, even as the once prosperous economy has crumbled under his current financial policies.
In 2009, inflation reached such incredible proportions that the country's own currency was scrapped in favor of completing transactions with the US dollar.
What has happened so far?
Early on Wednesday, the military announced on state television that it had taken over the government offices, parliament, Harare's airport and state television.
Major General SB Moyo insisted that the move was not a coup, but rather a targeted strike against "criminals" in Mugabe's inner circle that had hijacked Zimbabwe's democracy.
In less than 36 hours, the systems of security, intelligence and patronage that have sustained Mugabe through 37 years in power appeared to be on the brink of collapse.
Armored vehicles and soldiers were seen throughout the capital as people rushed to withdraw money from banks.
tj/ng (AP, AFP, Reuters)