Ireland is a wind-swept country. Onshore and offshore, it has excellent conditions for producing wind energy — perhaps the best in Europe — and German companies have the technologies needed to exploit that potential. It's a good economic match.
"Ireland has made serious improvements to its electricity transmission grid in recent years," according to Bernd Eilitz, a spokesman for wind turbine maker Siemens Gamesa Renewable Energy, a publicly traded company partly owned by leading German engineering conglomerate Siemens AG.
Read more: France faces challenges as it embraces offshore wind power
"Eirgrid, the company that operates the national grid, plans further measures to prepare the grid for delivering three-quarters of Ireland's electricity from renewable energy in future," he added. Most of it will be harvested from wind and Siemens Gamesa hopes to play a big role in making that happen.
European engineering know-how
The company — which currently ranks second in the world in terms of market share in wind turbine production, according to Eilitz — is the result of a corporate fusion in April 2017 of the wind energy subsidiary of Siemens AG and the Spanish wind turbine maker Gamesa.
Siemens Gamesa has production facilities in several countries, including in Germany, where the company's offshore wind turbine production capacity is concentrated.
Forests, farms, lakes, wind turbines
In late October 2017, Galway Wind Park, Ireland's largest wind farm, started commercial operation. It is expected to generate enough renewable energy to power more than 140,000 homes.
Located in sparsely populated western Ireland on state forest lands in the Cloosh Valley, upstream from the village of Oughterard, the wind park was developed over three years by a division of UK-based Scottish and Southern Energy and the Irish state forestry company Coillte, as a €280 million ($342 million) joint venture.
Read more: Can we live in a world without fossil fuels?
The farm, which has the capacity to generate 169 megawatts (MW) of electricity, comprises 58 Siemens Gamesa 3 MW wind turbines.
"In Ireland, Siemens Gamesa has installed about 290 wind power generators so far," Eilitz told DW. "We're not the only supplier to Ireland's wind power market, but we're an important one."
Early days for Irish wind power
Ireland is a fairly small onshore wind power market within Europe, Eilitz said, with just a small percent of Europe's total supply. But the country has enormous potential for wind energy — especially offshore.
"Suitable locations for offshore wind parks, areas where the seafloor is between 20 and 50 meters deep, are abundant. Wind conditions are very good — as we've seen in the seven offshore wind projects we've already installed in the eastern part of the Irish Sea, in British waters," Eilitz said.
To date, however, Ireland has developed only a single offshore wind project, called Arklow Bank — and it's a modest one, with just 25 MW of capacity.
Onshore, things are further along. According to the Sustainable Energy Association of Ireland, in 2016, "wind provided 85 percent of the Republic of Ireland's renewable electricity and 20.9 percent of total electricity demand. At the moment, wind power is the second greatest source of electricity generation in Ireland after natural gas."
Connecting grids is key
In February 2015, the European Commission announced a major policy initiative called the Energy Union. Its goal: To reduce EU reliance on energy imports, and improve the interconnection of European energy grids up to and beyond 2030, so that renewable energy can be shared regardless of where it is produced.
Even before the Energy Union was announced, Ireland had an existing legally binding 2020 renewable energy target for which it will need to produce 1,000 MW of offshore wind for the domestic market, according to an industry association, the National Offshore Wind Energy Association of Ireland (NOW Ireland).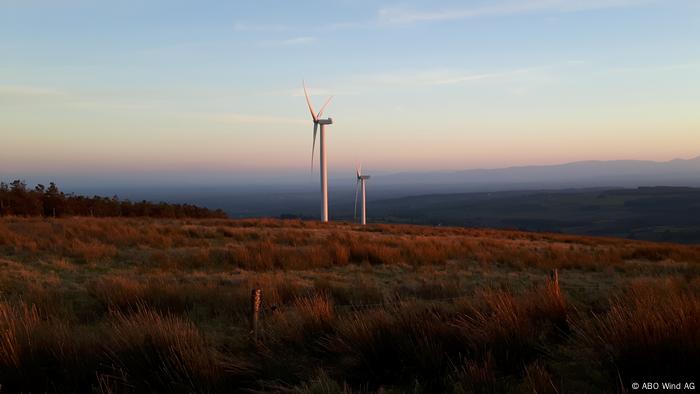 Glenough wind park in County Tipperary, Ireland
"Once it has satisfied its 2020 target, Ireland will see the effects of Energy Union in two ways: Further development of offshore wind in the Irish Sea post-2020, and increased electricity interconnection with mainland Europe," NOW Ireland has said.
In June 2017, the European Commission announced that the European Union's "Connecting Europe Facility" awarded €4 million in advanced feasibility funding to the "Celtic Interconnector," a project to connect Irish and French electricity grids by laying an undersea power cable.
Onshore resistance
Another reason to expect a major shift to offshore wind project development in Ireland is that although onshore wind conditions are very good, Ireland, like Germany, has its share of people who are opposed to wind turbines, because they have an aesthetic aversion to the presence of the big machines towering over the landscape.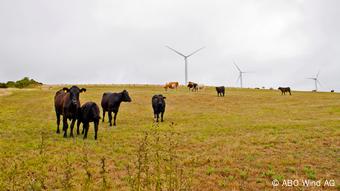 The giant windmills at the Gibbet Hill wind farm in County Wexford, Ireland, don't seem to bother the cows
And like wind power opponents elsewhere, they argue that wind energy is "uneconomic," pointing to subsidies like Ireland's public service obligation, or the cost of improving the transmission grid to make it able to absorb wind power from dispersed sites.
"Wind turbines spread over some of the most beautiful parts of Ireland save a paltry 3 to 4 percent of overall CO2 emissions," complained Paula Byrne, a spokesperson for Wind Aware Ireland, in an October Irish Times editorial.
Local benefits
To counter the resistance from some citizens, Irish wind companies have set up "community gain funds" to distribute some financial benefits to local communities near wind power projects.
An energy company called Bord na Mona, for example, set up two schemes in 2014 for communities near its Mountlucas and Bruckana wind farms. The combined funds amount to €125,000 per annum.
"The funding has benefited schools, sports clubs, general amenity, social initiatives, as well as community facilities," the company said, adding that its wind parks have also generated local jobs and municipal tax revenues.
Moving offshore
But the bigger opportunities lie offshore. NOW Ireland notes that "the scale of offshore wind farms, in the hundreds of megawatts, can achieve generation capacities equivalent to many onshore projects. For example, one 400 MW offshore wind farm with 50 turbines would replace 25 onshore wind farms of 20 MW each (an average onshore size), not counting the effect of higher and more consistent wind speeds offshore."
With the costs of new offshore wind power systems getting cheaper each year, and the risks and costs of climate change becoming clearer, it seems inevitable that Ireland will embrace its potential as a major European wind power supplier. Siemens Gamesa's offshore wind turbine production facilities in northern Germany will likely be among those who help make it happen.