Dasbar W., born in Germany with roots in the northern, Kurdish part of Iraq, is standing trial at the higher regional court in the state capital Stuttgart for allegedly planning a major terror attack on a busy ice rink in the southwestern city of Karlsruhe in the state of Baden-Württemberg. He denies the allegations.
The 29-year-old had apparently applied to several delivery companies as a driver to get hold of a vehicle for the attack, but did not succeed.
Police informant involved
Dasbar W. had been under surveillance in the weeks before the attack, and police managed to set a police informant on him, who approached him at a fork-lift truck driving course. The two had several meetings, which yielded the information on the planned attack, police say.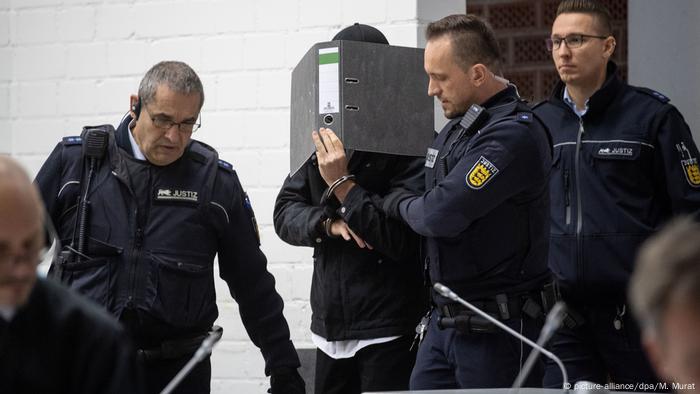 The suspect appeared in the regional high court in Stuttgart on Monday
Read more: Questions of trust: Informants who help terrorists
Dasbar W.'s lawyer, however, told the court on Monday that the case against his client is mainly based on what he called dubious statements by the police informer, whose identity has not been revealed. It is also not clear whether the informer will testify in court.
The lawyer pleaded 'not guilty' and said his client had never been a violence-prone Islamist. He is expected to testify at the end of November, the court heard.
Prior to his arrest, Dasbar W. reported the informant to police as a potential terrorist, possibly because he caught wind of the police operation, prosecutors believe.
Links to IS, Salafism
Prosecutors believe the 29-year-old, who was arrested last December — a year after a deadly terrorist attack on a busy Christmas market in Berlin — has links to the self-styled Islamic State (IS). He took part in a now-banned Salafist initiative that handed out copies of the Koran in several German city-centers.
Read more: When your daughter suddenly becomes radicalized
He has also been linked with helping to produce propaganda videos for IS in Germany. Prosecutors also say he traveled to IS-held areas in Iraq in 215 and 2016 before returning to Germany. He was also spotted as a security guard at an event with German radical Islamist preacher Pierre Vogel.
The suspect, however, claims he sympathizes with the Peshmerga, the Kurdish fighters in northern Iraq opposed to IS.
The trial is expected to take up to a year, with 100 court dates scheduled.