German interior minister Thomas de Maiziere has met with members of different minority Christian communities during a visit to Turkey.
Discussions with representatives from Greek Orthodox, Syrian Orthodox and Protestant Churches took place in Istanbul, and top of the agenda was further rights for minorities.
The Turkish government, under Prime Minister Recep Tayyip Erdogan has made moves towards strengthening the rights of minorities.
De Maiziere told a German radio station in Istanbul that there had been "progress" but more needs to be done.
"We hope that progress is followed up with action," he said. "Such as the opening or reopening of seminaries – something that has been under discussion for a long time."
The seminary in question is on the island of Heybeli, in the Marmara Sea off the coast of Istanbul. It was closed in 1971, but the resident Greek Orthodox monks have kept the seminary ready, so it could be re-opened within months. They just need to be given the green light by Ankara.
Freedom of religious expression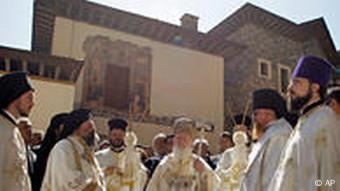 An Orthodox monastery was recently allowed to reopen for a Divine Liturgy service
Turkey, which is a secular country with an overwhelmingly Muslim population, has been accused of not protecting the rights of religious minorities.
During his visit, de Maiziere stressed the importance of freedom of religious expression, particularly if Turkey is hoping to join the European Union.
"This includes not just the individual practice of religion, but also the building and founding of churches, religious education and interfaith dialogue," the minister said.
Moves towards acceptance
During his visit, de Maiziere met with one of the more moderate figures in Turkish politics.
Ali Bardakoglu is the President of the Turkish Office for Religious Affairs, and has made conciliatory moves towards the Christian minority.
Bardakoglu recently oversaw that an old church in Tarsus, the birthplace of the Christian apostle Paul was converted from a museum back into a church.
He has also said he would not mind if Christians wanted to celebrate Mass in Istanbul's Hagia Sofia. The former Othodox church, which was regarded for centuries as the world's oldest church, was converted into a mosque after the Ottoman conquest and is now a museum.
Author: Catherine Bolsover (dpa/KNA)
Editor: Andreas Illmer