During their pre-election party conference in Berlin on Saturday, Germany's Greens said they would only enter a coalition deal with another party if they secured the right for same-sex couples to wed.
"There will be no coalition agreement with us without marriage for all," their manifesto read.
Such a stance could prove problematic for a possible deal with Chancellor Angela Merkel's conservative bloc, which has been reluctant to extend the rights of same-sex couples in Germany. Since 2001 gay couples have been able to enter civil partnerships but are not allowed to adopt children.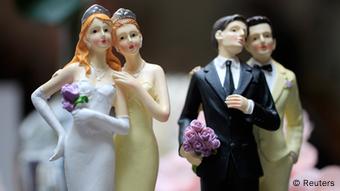 Same-sex marriages are a condition of the Greens' political partnership
Read more: What you need to know about Germany's political parties
Focus on climate protection
The other main stance set out by the Greens on Saturday was the pledge to move Germany completely away from coal energy by the year 2030 and to close the country's 20 "dirtiest" coal-fired power stations in the next legislative period.
The party gathered under the slogan "Climate First," a parody of US President Donald Trump's "America First" election mantra.
In an interview with DW, Greens co-leader Cem Özdemir rejected the notion that the Greens were losing relevance because many of their issues, such as the need to fight climate change, had been embraced by figures in the political mainstream - including Chancellor Angela Merkel.
In the Green party leader's opinion: "She's excellent when it comes to headlines because you have a crazy president in the US, but that's not enough," Özdemir alleged to DW. He said Germany's carbon emissions had not decreased in the past eight years. "It doesn't make a difference for the changing climate whether it's changing because you have a crazy president in the US or because you have a lazy chancellor in Germany," he claimed.
Kingmakers or kicked out?
The Greens face the predicament of having both dwindling levels of support and the chance of being a kingmaker in a coalition government.
Recent polls have shown their share of the vote coming dangerously close to slipping below the five percent needed to enter parliament.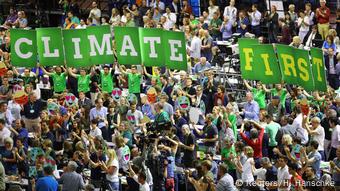 The Greens hope tackling climate change will win them votes
However, if they clear that hurdle the Greens could go from being in opposition to being part of the government by teaming up with either the Social Democrats or Merkel's conservative Christian Democratic Union (CDU) and Bavaria's Christian Social Union (CSU.)
Read more: Why the German Green party is wilting
Özdemir told DW his party was polling about the same level as rivals the Free Democrats (FDP) the Left party and the Alternative for Germany (AfD) so it was a close race.
"We want to be the third largest party in this country and then hopefully join the next government and redefine what Germany stands for," he said.
The Greens are due to adopt their 2017 election manifesto on Sunday.