German Chancellor Angela Merkel foresees keeping Germany's nuclear power plants running for at least another decade past their current phase-out date, drawing sharp criticism from green campaigners and the opposition.
In 2002, the then-ruling coalition of Social Democrats and Greens passed a law that said all of Germany's nuclear power plants were due to go off line by 2022 at the latest.
But Merkel, coming off a recent tour of energy facilities around Germany, said in an interview with public broadcaster ARD that "on technical grounds, [an additional] 10 to 15 years is reasonable."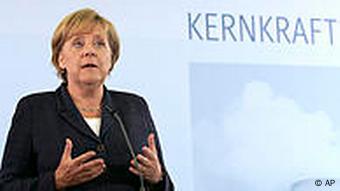 Merkel paid a visit to several power plants over the last week
Ensuring energy supplies
The chancellor, citing an independent consultants' report published this week, said such a time frame would ensure Germany's energy needs are met as the country transitions to renewable energy sources. Energy prices would remain under control and goals for reducing greenhouse gas emissions would be reached with an extra 10 to 15 years of nuclear power, Merkel added.
"I have to consider, as head of government, how we integrate safety as the overriding principle of nuclear energy," she said.
Sigmar Gabriel, head of the opposition Social Democratic Party, criticized Merkel's decision.
"The chancellor's statement shows that the decision isn't based on a sustainable energy plan but the hard-nosed lobbying work done by nuclear power companies," he told reporters on Sunday.
Clean energy groups agree with the opposition and point out that using nuclear and renewable energy sources in tandem is not efficient.
"Renewable energies are feeding into the system in a flexible way, depending on weather conditions for example," Bjoern Klusmann, director of Germany's Renewable Energy Association told Deutsche Welle.
"Because of the priority given to renewables in the German grid, the conventional power stations, so coal and nuclear and other fossil power stations, have to react in a flexible way to the production from renewables. Nuclear energy is not as flexible as is needed for this future concept of renewable energy being the dominant part in our grid," he explained.
In a statement on Friday, Merkel said renewable energies should supply half of all energy needs by 2050 and that nuclear and coal power would continue until supplies could be met entirely by clean energy, a strategy that clean energy experts like Klusmann say is a false economy.
"Eighty percent of German power supply is in the hands of four big companies...What we need is more competition in the field of energy and we get that if we phase out nuclear and allow investors to install new production capacity," Klusmann said.
As long as nuclear power is granted such a high standing in the market, he argues, investment in renewables will be low, especially since the government has announced funding cuts in some types of renewables.
Legal question
The debate over extending the running time of Germany's nuclear plants has sparked a deep debate in the German parliament. Merkel said any extension would come in a form that circumvents Germany's upper house of parliament, the Bundesrat.
However, doubts have been raised by the interior and justice ministries that an extension of more than 10 years could be illegal if it were not approved by the Bundesrat, which is made up of the governments of Germany's 16 states.
Germany has 17 nuclear power plants, but it is not certain how many would be given extensions if one is granted.
A poll published on Friday found that 56 percent of Germans are against keeping nuclear power plants beyond 2021.
Author: Matt Zuvela, Nicole Goebel (Reuters/dpa/afp)
Editor: Chuck Penfold