Far-right activist Mario R. went on trial in Berlin on Thursday, facing charges of making 193 illicit gun sales to customers in Germany.
The 35-year-old German national is suspected of running a website called "Migrantenschreck," which roughly translates to "Scourge of Migrants." The portal sold gas-powered pistols, crossbows, rubber ammunition and similar weapons. It also featured a ticker on sensationalist anti-immigrant stories.
According to the indictment, Mario R. sold €110,000 ($125,000) worth of guns to buyers across Germany between May and November 2016.
On the website, men in tutorial videos were seen using the weapons to destroy cardboard cutouts of migrants and leading German politicians, including Chancellor Angela Merkel.
"Protect yourself and your family," proclaimed the now-defunct site.
Buyers of the listed weapons are required to have a permit under German law. However, the seller promised that products would be delivered discretely and "without annoying bureaucratic hurdles and irritating forms."
Mario R. is due to address the court next Tuesday.
Read more: Anti-migrant weapons dealer arrested in Hungary on German warrant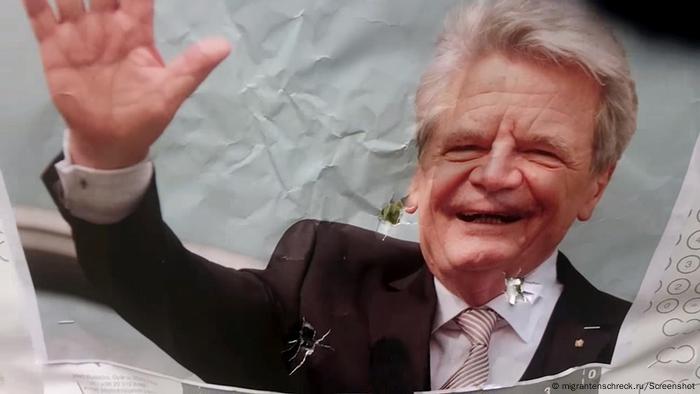 A photo of then-President Joachim Gauck used for target practice on the "Migrantenschreck" website
Money from right-wing publishers
A separate investigation is also looking into links between Mario R. and Facebook pages Anonymous.Kollektiv and Anonymousnews.ru, which posted anti-immigrant fake news stories. The defendant himself "proclaimed to be responsible for these [outlets] on his Facebook page," German prosecutors said in a statement cited by Germany's public broadcaster ARD. The names were chosen for their similarity with the unrelated hacker group Anonymous.
According to research published by public broadcasters NDR and WDR and the daily Süddeutsche Zeitung, the fake news pages received large donations from two well-known right-wing publishing houses in Germany. Compact Verlag allegedly transferred over €70,000 to a Hungarian bank account belonging to Mario R. in the first half of 2016 alone. The purpose of the alleged payments was not immediately clear.
Prosecutors confirmed that the other publisher, Kopp, paid around €40,000 to the defendant between April 2016 and September 2017.
Captured in Hungary
While the "Migrantenschreck" website first drew public attention in May 2016, Mario R. allegedly managed to keep the business running for many months by moving the pages to Russian and Hungarian servers. He also fled the country to avoid arrest.
German authorities conducted a series of raids in January last year to repose around 40 illegal firearms, which reportedly came from the online gun store. In March 2018, the suspect was arrested in Hungary on a German warrant and extradited in June.
Each evening at 1830 UTC, DW's editors send out a selection of the day's hard news and quality feature journalism. You can sign up to receive it directly here.