President of the Fire Brigades' Federation (DFV) Hartmut Ziebs said only the army's Sikorsky CH-53 transporters were capable of airlifting 5,000-liter refillable water canisters that may be needed if Europe's 2019 summer causes wildfires.
"The fire brigades in Germany must have access to at least ten more fire-fighting helicopters," said Ziebs.
Germany allows local fire-fighters to request federal and regional state assistance, including the provision of police and military vehicles, in the case of major emergencies.
But there may not be enough helicopters available.
"Using the rotation principle, it must be possible to deploy at least three helicopters simultaneously at three major emergency scenes across Germany," said Ziebs.
The DFV does not have its own special wildfire-extinguishing aircraft that are commonly seen tackling wildfires in northern America or southern Europe.
Very dry spring
Germany's DWD weather service says soil moisture deficits lingering since Europe's 2018 drought have not been relieved by winter rainfalls. This has left pine forests on sandy terrain in eastern and northern regions of Germany at risk of wildfires.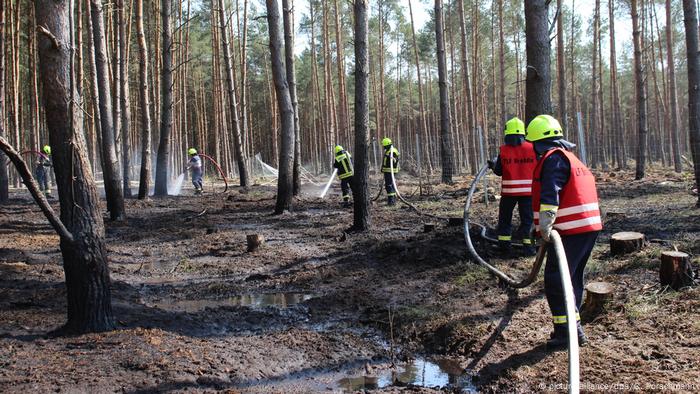 Dousing at Dreetz, Brandenburg state on Tuesday
On Wednesday, firefighters were trying to contain a cliff-face forest blaze near Saalfeld in eastern Thuringia state. Near Hamburg on Tuesday, crews doused a fire on a nature reserve.
In southern Sweden and southwestern Norway, where risks are also high, crews in recent days have also fought fires on hundreds of hectares.
Extra funds, special vehicles
Responding to the appeal from the DFV, Germany's Interior Ministry said the Federal Police had 12 Puma helicopters. But they are only able to lift 2,000-liter water dousing units.
Federal authorities also had 400 special vehicles, each capable of pumping water over a distance of two kilometers, the ministry said. It stressed that under Germany's federal system firefighting was the responsibility of communal authorities, not central government.
Parliament had, however, allocated an extra €100 million ($111 million) from 2019 to 2022 for fire-fighting and disaster protection, a ministry spokeswoman said.
Germany's Defense Ministry said one of its Bundeswehr helicopters (pictured above) had helped dampen a moorland blaze near the northern town of Goldenstedt in Lower Saxony.
Vulnerable vegetation
DWD agricultural meteorologist Udo Busch said conditions after the winter in many regions of Germany were "significantly worse in 2019 compared to the previous year."
Farmers in Brandenburg, the state that encircles Berlin, are already worried about their harvests.
"We're hoping ardently for rain; the deciding month for us is May," said regional farmers' federation spokesman Tino Erstling. He added that if the weather, which is normally changeable in April, stayed mostly dry, then cereal plants would hardly be able to mature into productive grain heads.
Large-scale monoculture forestry plants will "fail medium-term," said Pierre Ibisch, professor for forestry and eco-system management at the Eberswalde University for Sustainable Development, in Brandenburg state, north of Berlin.
Instead, "forests of the future" would be made up of deciduous trees in a rich mix as they do not dry out so intensely, Ibisch said. They also dry out less rapidly compared to pine needle forests.
Bark beetles
The widespread presence of bark beetles that left pine trees dead and bark peeling had the potential in the coming European summer — as it did in 2018 — to allow uncontrollable forest fires to ignite, said Karlheinz Busen, forestry spokesman for the opposition liberal Free Democrats.
The federal and regional state governments must take the current warnings seriously, he said
ipj/jm (dpa, AFP)
Every evening, DW sends out a selection of the day's news and features. Sign up here.