A buyer from the northern German state of Schleswig-Holstein bought a garden gnome painted by former German Chancellor Helmut Schmidt for €3,000 ($3,396) at an auction in Hamburg.
The Hamburg-born Schmidt, who died in 2015 at the age of 96, was among other prominent figures requested to paint gnomes in 1986 for a charity auction run by the friends' association of a care home. At the time, the money from the auction went toward renovation work on the home.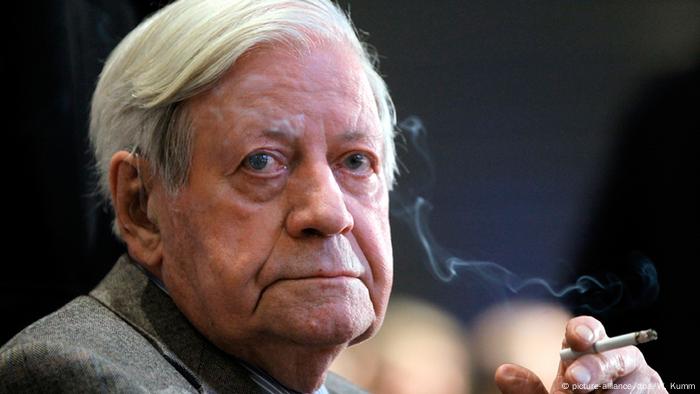 A familiar sight to Germans until 2015: A smoking Helmut Schmidt
The purchaser of the figure, who won out over several other bidders, according to the auction house, will have to pay some €3,800 altogether for his purchase when the commission is added.
Read more: Former Chancellor Helmut Schmidt: world citizen, crisis manager and chain smoker
Personal references
Schmidt's gnome is wearing a red cap with a German flag at the side. The white beard could be a reference to Erhard Eppler, one of Schmidt's rivals within his Social Democratic Party.
The blue top and blue, white and red pants are painted in the colors of the flag of Schleswig-Holstein, a state where Schmidt often spent his holidays.
Schmidt was chancellor of Germany from 1974 to 1982. Following his period in office, he remained popular as an elder statesman until his death. A life-long chain smoker, he famously insisted on being allowed to light up even during studio interviews.
He was also a co-editor of the highly respected weekly newspaper Die Zeit from 1983 onward.
Read more: Peek into former Chancellor Helmut Schmidt's home
Every evening, DW's editors send out a selection of the day's hard news and quality feature journalism. You can sign up to receive it directly here.