The German Ethics Council has called for the repeal of the prohibition of incest between siblings. In a statement released on Wednesday, the majority of the council's members requested that consensual sexual relations between siblings of legal age should no longer be a crime.
Among other things, the council argued that the risk of genetic impairment to a child born from an incestuous relationship doesn't completely warrant the current ban and that the social taboos remain even without an implemented law.
A spokeswoman for Angela Merkel's CDU party, Elisabeth Winkelmeier-Becker, responded to the Ethics Council's vote saying that the abolition of the law against incest would give out the wrong signal.
"Abolishing criminal punishment against incestuous actions within a family would go completely against protecting the undisturbed development of children," she added.
According to section 173 of the German criminal code, sexual relations between siblings or between parents and their children is forbidden. The Ethic Council voted on the matter due to a case of two siblings from the eastern German city of Leipzig. The brother and sister in question, Patrick and Susan, (pictured above), were not brought up together and first met at the age of 24 and 16, respectively. After becoming a couple, they went on to have four children.
Courts ratify incest prohibition
In 2008, Patrick was convicted for his sexual relationship with his sister, who was only allowed to keep their youngest child. The Leipzig man appealed against his conviction in the German Federal Constitutional Court in 2008 and the European Court of Human Rights in 2012 - both of which reaffirmed the illegality of incest in German law.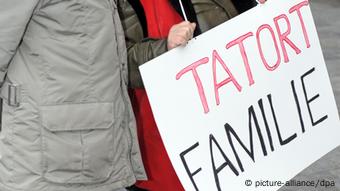 An anti-incest placard reads "Crime scene family"
As a result, the majority of 25 Ethics Council members, including Chairman Christiane Woopen, have called for the repeal of section 173. These 14 members voting in favor of the change believe the Leipzig case was an unjustified interference in the sexual self-determination between two adult siblings in a consensual relationship.
"Of all the views that the German Ethics Council has presented, this is the first to directly touch upon a deeply-rooted taboo in society," said Woopen.
Nine members of the Ethics Council voted for continued adherence to the ban, highlighting the importance of roles within a family, which they say incest threatens to destabilize. Two members of the Ethics Council abstained from the vote.
ksb/mz (dpa, epd)