Susanne Tatje is Germany's first-ever commissioner for demographics. Appointed by the northwestern city of Bielefeld in 2004, Tatje takes her job very seriously. Her mission is to give new meaning to the term "demographic change."
So that she's able to see this demographic change first hand, she often takes tours of Bielefeld. A recent tour took her to a district known as Ostmannturmviertel. There, houses stand partially complete next to dilapidated buildings from the 1960s. The tiny streets are filled with Internet cafes, cheap hair salons and Turkish fruit stands.
Tatje remembers that when she first came to this part of town 36 years ago, it resembled a more typical German high street with bakers, locksmiths and butchers.
Exciting cooperation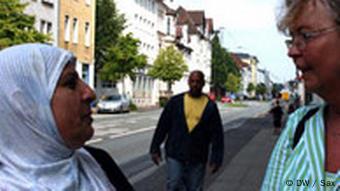 Part of Tatje's job is to bring different cultures together
The Islamic center and the evangelical church stand just 100 meters apart. It's important for Tatje that people from different cultures and religions come together and share ideas.
"We're all living together in Bielefeld," she said. During her tours of the city she often shows up at a mosque with groups without telling them where they're going.
"Alone they probably wouldn't have the guts," said Tatje. "And they are often surprised and interested in the other culture."
Mammoth task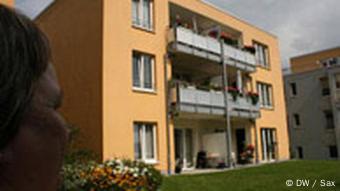 This house is part of a special housing project for the elderly and infirm
Susanne Tatje considers herself a planner of the future, which includes everything from education to integration to land development.
The demographic commissioner tries to find answers to many questions: What happens to areas within the city when young families move out and the only ones left are older? And does a wealthy part of town really need a third soccer field? Wouldn't the community be better served by using that money to help underprivileged children?
Often Tatje's questions are critical, which doesn't win her a lot of friends. Sometimes the people involved react poorly and think that Tatje just wants something from them, but she insists that isn't true.
She just wants to carefully and properly discuss demographic issues, she said.
Independent living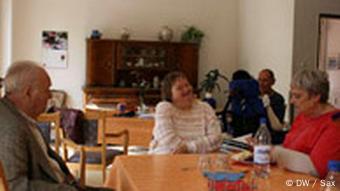 The Bielefeld housing model has already been implemented in other towns
On one of her tours, Tatje arrives at a modern, three-storey building. It's painted yellow with an interior courtyard with benches, a rose bush and several elderly people playing a classic German board game.
The house belongs to a special housing project, the Bielefeld Model, which has already been implemented in a few other towns. The elderly and other people in need of care can live independently here.
A nursing service is available to the residents 24 hours a day, seven days a week. Although the service itself is available at no extra charge, patients do have to pay for any items used, though they are charged rates standard to the industry.
This system works well for both parties. The nurses are guaranteed customers because there will always be people in the building who require constant attention. And for those who only need services every so often, they can feel better knowing there is always someone nearby on duty.
From slaughterhouse to suburbia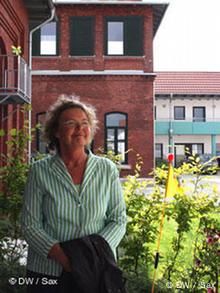 Tatje is proud of the difference she's made in Bielefeld
But Tatje's showcase project is the redevelopment of Bielefeld's old slaughterhouse district. There, old buildings were renovated and turned into barrier-free apartments and offices. Shopping centers were built and a daycare now provides education for children from over 15 different countries.
There's even a restaurant where residents can spend warm summer evenings sitting in a beer garden. Old and young don't live next to one another here, but rather with one another.
"I think this is what city planning should look like," said Tantje. "I really like coming here and can imagine moving here one day."