Volkswagen on Thursday cautioned US President Donald Trump against imposing taxes on imported cars, saying that barrier-free market access was a key driver of growth, prosperity and jobs around the world.
A spokesman for the German auto giant was responding to Washington's announcement of a new investigation into the auto trade, to see whether the dominance of foreign players is a threat to national security.
Volkswagen said "unilateral protectionism has not helped anyone in the long term," and that "only free and fair trade ensures prosperity gains."
Read more: Miracle or mirage? Bosch's diesel 'breakthrough'
'Avoid trade barriers'
The comments were backed up by Germany's auto industry association VDA, who said any increase in trade barriers should be avoided.
US Commerce Secretary Wilbur Ross promised the probe would be "thorough, fair, and transparent" and would focus on "whether (auto) imports are weakening our internal economy, and may impair the national security."
If investigators can prove that foreign car makers are harming the prospects of US car makers, it could provide the legal basis to impose tariffs on car imports.
The Wall Street Journal reported on Thursday that the tax could be as high at 25 percent. Currently the US imposes a tariff of just 2.5 percent on foreign cars, while the European Union levies a 10 percent duty on US cars.
Read more: BMW increases R&D spending on e-cars, autonomous vehicles
Trump roars again
Trump has repeatedly vowed to impose tariffs to protect the US auto industry, having been elected in 2016 on a promise to bring back millions of lost American jobs from abroad.
The US president told his core supporters on Twitter that the hard times for US autoworkers would soon be over.
VDA noted that actual trade flows in the auto industry are different to the impression given in policy statements by Trump.
It said German car exports to the US have been falling for many years, whereas German automakers have moved production for more of their vehicles to US plants, where they are exported all over the world.
Read more: Scandal-hit VW doubles profits in 2017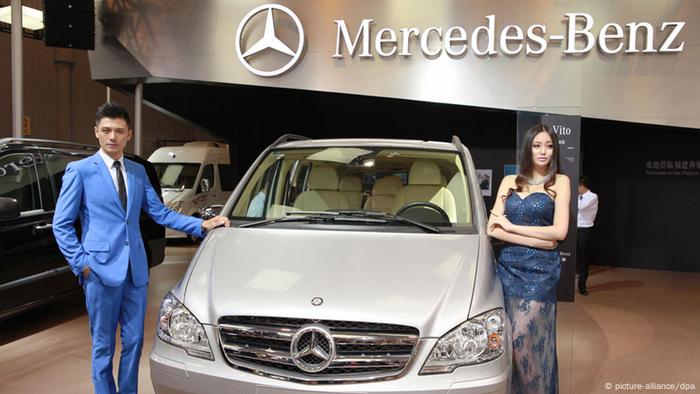 While the US remains a key market for Germany's auto players, Asia is fast becoming the new priority
Germany's factories in US
Germany's US factories employ some 36,500 American workers, and since 2013 have ramped up production by 180,000 to more than 800,000 vehicles.
At the same time VDA admitted that some vehicle production had moved to Mexico over the past 12 months.
BMW, which along with Mercedes has expanded production capacity in the US, said in its own statement that "barrier-free access to markets is therefore a key factor not only for our business model, but also for growth, welfare and employment throughout the global economy."
BMW's 10,000-employee plant in Spartanburg, South Carolina, is its biggest worldwide.
The US investigation contrasts with positive trade talks between German Chancellor Angela Merkel and Chinese premier Li Keqiang during her visit to Beijing this week.
"China and Germany are on the path of promoting multilateralism and bolstering free trade," Merkel said on Thursday.
China recently said it would cut tariffs on foreign vehicles from 25 to 15 percent.
Read more: German carmakers welcome lower import tariffs
Asia the new priority
Germany's Center for Automotive Research (CAR) said the US auto market was already saturated, and that its importance to German carmakers would continue to shrink due to a lack of growth potential.
It said China, India and Russia were countries with great future potential.
VW already sells 40 percent of its vehicles in China, while BMW and Daimler sell just under 30 percent.
CAR restated its earlier prediction that tariffs would be massive own goal for Trump, as they would hurt the US auto industry the most.
American car manufacturers, General Motors and Fiat Chrysler, import between a quarter and half of their cars sold in the US from plants in Mexico and Canada.
Shares in BMW, Daimler and Volkswagen each slid by more than two percent in value on the Frankfurt Stock Exchange on Thursday, on news of the US probe.
Each evening at 1830 UTC, DW's editors send out a selection of the day's hard news and quality feature journalism. You can sign up to receive it directly here.