Customs officers in the German city of Hamburg announced a series of massive drug busts on Friday after uncovering several hundred kilograms of cocaine in that were hidden in unusual places.
The most recent bust was made in early November, when officers found 300 kilograms (661 pounds) of cocaine hidden behind a large shipment of dental floss.
Customs officials in the northern port city made the discovery while x-raying the container, which had been shipped from the Dominican Republic. In a statement, customs officials said the cocaine was worth around €63 million ($71.6 million) on the black market.
'Nearly perfect hiding place'
In another unusual case, customs officers found 100 kilograms of "ultra-pure" cocaine that was stashed in an imported Volkswagen (VW) T2 camper van. The cocaine is believed to have a street value of at least €21 million.
The drugs were found a lime-green, 1974 VW camper van that had been shipped to Hamburg in a container from Brazil — in what customs officers described as a "nearly perfect hiding place."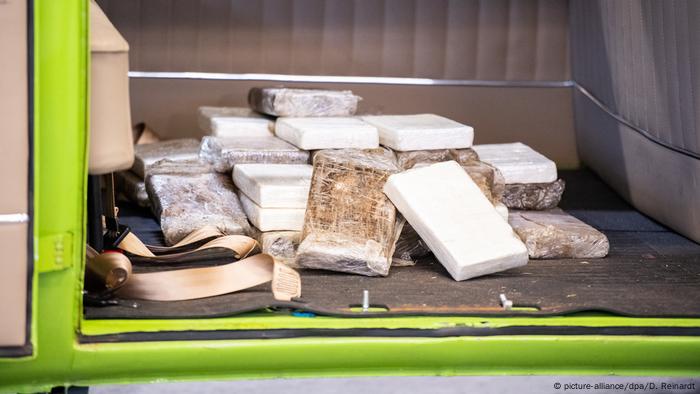 Another batch of cocaine was found carefully concealed in a VW camper van imported from Brazil
The suspects welded a false bottom in place beneath the rear seat, stowing the drugs in the hidden compartment beneath the floor of the vehicle and above the wheel arch.
"It appears as though drug smugglers will never run out of creative ideas for new hiding places. But that's exactly what makes the profession of a customs officer so exciting," said Michael Schrader, the head of the main customs office in Hamburg's harbor.
Hamburg authorities have intercepted several other large cocaine shipments in recent weeks. Earlier in November, police announced they'd uncovered over one ton of the drug in a truck located on the site of a freight forwarding company.
Shortly before that find, customs officers found 200 kilograms of cocaine in a shipping container loaded with coffee that was to be sent to a business located in Hamburg. The northern German port is the largest and busiest in the country by a considerable margin.
Every evening at 1830 UTC, DW's editors send out a selection of the day's hard news and quality feature journalism. You can sign up to receive it directly here.