The Federal Criminal Police Office (BKA) said it confiscated record-breaking amounts of cocaine this year, speaking of "exorbitantly high" figures, German broadcaster NDR has reported.
German law enforcement agents managed to seize more than 7 metric tons (7.7 US tons) of cocaine in part due to increased output made possible by advances in production efficiency. As a result, cocaine seizures worldwide are set to surpass last year's 582 metric tons (641.5 US tons), the BKA said.
Authorities conducted major counter-narcotics operations throughout the year, including one in July in which police seized 3.8 metric tons (4.2 US tons) of cocaine in Hamburg.
'Flood of cocaine'
Christian Hoppe, who heads the BKA's counter-narcotics division, said drug traffickers from South America had inundated markets across Germany.
Read more: Crystal meth and cocaine in German wastewater
"Dealers are following the motto: 'Supply creates demand,'" Hoppe said. "The supply in South America has increased, which means we have a flood of cocaine."
However, the senior law enforcement agent noted that it was too early to tell if cocaine will transform into an "everyday drug."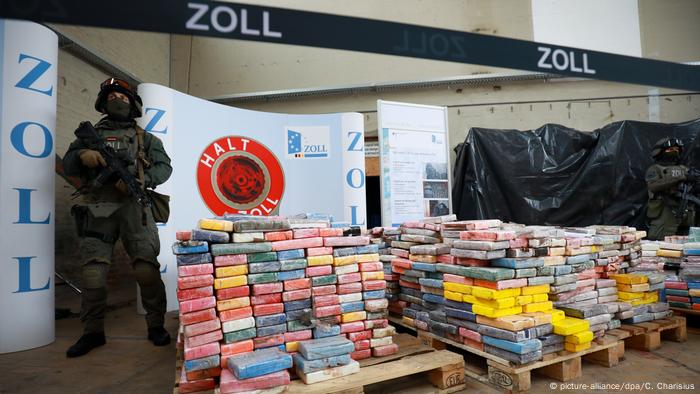 Police have seized tons of cocaine in Hamburg, one of Europe's largest ports
From plantations to the harbor
Cocaine is often sent from South America to Europe in shipping containers and paired with other products, including bananas, according to federal police.
When the drug eventually makes it to an entry point such as Hamburg's port, criminal organizations bribe employees to ensure the shipments are unloaded without trouble, the BKA said.
Read more: The bizarre finds of German customs officers
Criminal organizations based in Italy and the Balkans have dominated Europe's drugs markets, representing a major challenge to counter-narcotics operations, the BKA said.
The criminal organizations' trafficking networks have proven difficult to break up due to their cell-like structure, it added.