"I want to send a signal by not taking part in the opening ceremony," 27-year-old Yvonne Boenisch told German public broadcaster ZDF on Tuesday, April 15.
But Boenisch, the first German woman to win a judo gold medal -- at the Olympics in Athens in 2004 -- ruled out that she would be boycotting the Olympics Games altogether.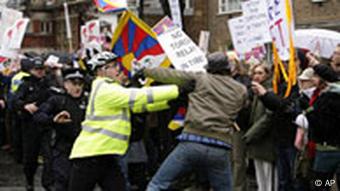 Protests along the Olympics torch relay in London
"Participating in the Olympics is every athlete's biggest wish," she said. "A boycott now would shatter thousands of athletes' dreams."
Instead, during the Games, Boenisch plans to wear a wristband symbolizing her distain of China's crackdown in Tibet.
Other athletes headed to the Olympics will likely be less vocal. Some French athletes had planned to wear jerseys bearing the slogan "For a Better World" and displaying the Olympic rings -- to show their belief in respecting human rights.
But, Henri Sérandour, president of the French National Olympics Committee, told L'Equipe TV that athletes participating in the Olympics are not permitted to wear additional tags or badges on their uniforms.
French Secretary of Sports Bernard Laporte, on the other hand, had welcomed the protest.
"Stage for expression"
While German Olympics officials have clearly pledged to send a team to the Beijing Games, Guenther Nooke, Germany's human rights commissioner, told Deutsche Welle this week that the debate about boycotting the Olympic Games in Beijing should come to an end.
Protests began at the torch-lighting ceremony in Athens in March
Instead, he said Western visitors to the Games "should take a stand" on the human rights issue.
He said the International Olympics Committee should not prevent freedom of expression in the stadiums where sporting events are to take place, and said the Games "should be optimally used to draw public attention to human rights' abuses."
US athletes may be quieter
Numerous US athletes announced on Monday that they would refrain from making political statements at the Games, saying they would concentrate on winning medals.
"We hope we are able to bring awareness to peace and team unity. That's our main objective. Winning the gold medal is where we can speak the loudest, by representing our country in the best way possible," said 2004 US women's soccer Olympian Heather O'Reilly.
"We hope to bring the world together. But that's a lot to ask of an athlete, not only to go over and win a gold medal but also have these political views. It's so huge. It's a lot for an individual to take on, or a team or a nation," she said.