The group has been attempting to persuade fellow citizens that they can lead a happy life without believing in God. On Thursday, the "atheist bus" stopped off in Berlin, bringing the promotional tour throughout the country to a close.
In the German capital, the atheist bus tour fell on fertile ground. The London-style red double-decker was crammed full on Thursday, which was perhaps not surprising as approximately two-thirds of Berliners say they are not religious in any way.
Campaign spokesman Peder Ibelher explained why the campaign slogan, "Close to certainty, there is no God," lacked a fiery anti-religious sting.
"This reflects the scientific approach that Germans have to the question of God. You can never say there is no God because there's no evidence for a God and no evidence against it," he said.
Believers protest against blasphemy
In Berlin, as well as during most of their three-week tour, the godless activists were followed closely by people who were out to save them from eternal damnation.
A second bus, emblazoned with the slogan, "And what if there is God?" was right behind the atheist bus at every stop it made. Among the anti-demonstrators was Axel Nehlsen, a protestant pastor who fundamentally disagrees with the atheists.
"All ideologies have been thrown away in the last decades and even capitalism is in a crisis now," he said. "So I think the Christian faith and the relationship to God and Jesus Christ can give everybody a foundation which is not depending on the current mainstream. And we want to challenge them to find out whether God exists."
Official church leaders in Germany have reacted calmly to the atheist bus, arguing that the activists would actually do the Christian faith a service, by enlivening the public debate about God.
Blessing in disguise?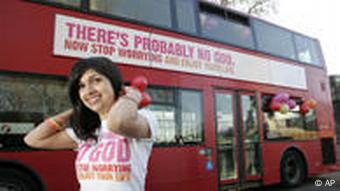 The atheist bus is the brainchild of the British comedy writer Ariane Sherine
Public transport authorities, however, were less comfortable. In contrast to London, where the slogan appeared on city buses and in the Underground (tube) network, German cities banned the slogan from being advertised. They claimed it would inflame religious feelings.
Peder Ibelher, however, said the campaign was a huge success despite the public advertisement ban.
"The campaign went really well. We've heard that up to a quarter of the German population noticed our slogan. Maybe it's come out even better in the end with no public advertisement - with the bus just going around from city to city in Germany," he said.
The activists had to rely on donations of 40,000 euros ($56,000) to rent their bus and get the campaign rolling. They consider this money well spent, however, as they've sparked debates throughout the entire country for three weeks long.
The atheist bus campaign, which started in Britain earlier this year, has now spread through Germany, the United States, Italy and Spain.
uh/glb/dpa/AFP/Reuters
Editor: Susan Houlton