The staff council of the Federal Office for Migration and Refugees (BAMF) strongly criticized internal processes at the agency in an open letter published by the German newspaper Süddeutsche Zeitung on Tuesday.
The council said BAMF chief Jutta Cordt must share responsibility for the scandal that emerged last month, in which employees at the agency's bureau in Bremen reportedly mismanaged and approved more than 1,000 asylum applications. There is also the possibility bribery was involved..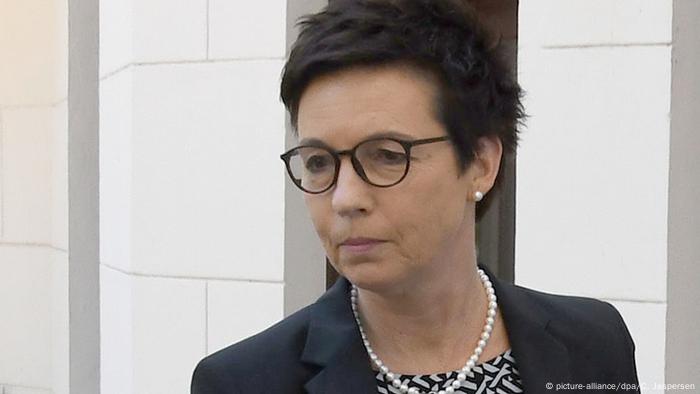 BAMF chief Jutta Cordt is expected to give her assessment of the situation to a parliamentary committee
According to the council's open letter, upper management pressured staff todeal with asylum applications quickly, despite an overload of cases, especially at the height of the migration crisis in 2015.
"The so-called executives, and not the low-ranking employees of the federal office, must be in focus," said council chairman Rudolf Scheinost and deputy chairman Paul Müller in the open letter.
Reforms on the table?
German Interior Minister Horst Seehofer and Cordt are expected to address a parliamentary committee later Tuesday to clarify the situation and provide information as to who may be responsible for the asylum applications in question.
Seehofer has proposed reforming the way asylum applications are handled. The former Bavarian state premier has also floated the idea of so-called anchor centers where refugees would be placed for processing upon arrival.
In 2015, nearly 900,000 people entered Germany irregularly, many of them fleeing conflict and extreme poverty in the Middle East, Asia and Africa.
The ensuing crisis prompted a tumultuous debate about the role of host countries, and also the responsibilities of refugees in Germany and elsewhere in the EU.
ls/rt (AFP, dpa)
<div class="opinary-widget-embed" data-poll="are-developing-countries-rightly-critici" data-customer="deutschewelleeng"></div>
<script async type="text/javascript" src="//widgets.opinary.com/embed.js"></script>
Each evening at 1830 UTC, DW's editors send out a selection of the day's hard news and quality feature journalism. You can sign up to receive it directly here.