The German government has allowed the country's gun-makers to sell even more ammunition around the world in the first half of 2016, according to an arms export report leaked to the DPA news agency and due to be discussed in a cabinet meeting on Wednesday.
The sales of small arms themselves have fallen slightly, from 12.4 million euros ($13.5 million) to 11.6 million euros, but the approved ammunition sales rose from 27 million euros to 283.8 million euros.
This broke down into 275 million euros worth of sales to EU, NATO, and NATO-allied countries (Australia, New Zealand, Japan, and Switzerland) as well as some 5.4 million euros to Iraq. The three biggest single customers were France, Poland, and Iraq, where Germany is supporting the Kurdish fighters in their battle against "Islamic State."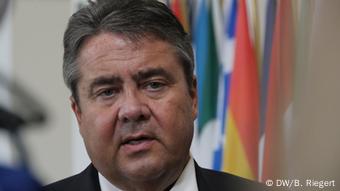 Gabriel has promised to reduce Germany's small arms sales
Sebastian Schulte, defence analyst and Germany correspondent for military magazine "Jane's Defence Weekly," said the increase in ammunition was not particularly surprising, given the intensification of the battles in Syria and northern Iraq.
"The coalition is at the gates of Mosul, they're going through a lot of ammunition, and Germany has decided to support the coalition - notably the Kurds," he told DW. "A single machine gun can go through several thousand rounds of ammunition during a single day of combat, depending on the intensity of the operation."
Not only that, Germany is probably also sending a lot of ammunition to Turkey, he speculates: "And as you know, Turkey is also highly involved both in Syria and in anti-IS operations."
As Schulte explained, Germany uses and produces a certain standard of ammunition that can be used with the corresponding weapons of other NATO countries. But it is incompatible with Soviet- and Russian-designed small arms, like the various AK Kalashnikov variants seen in the region.
Doing business in conflict zones
The report also reveals that Turkey has become a better weapons customer in the last few years: moving up from 25th place to 8th place since the beginning of the refugee crisis. Two-thirds of these sales came in plane parts, unmanned drones, and other military equipment.
South Korea is also buying more from Germany, thanks to escalating tension with its northern neighbor, and has bought 205 million euros worth of military equipment, including military ships, submarine and helicopter parts, missiles and missile defense systems.
Saudi Arabia remains Germany's third-biggest buyer, increasing its purchases from 179 million euros in the first half of 2015 to 484 million euros, while the United Arab Emirates almost doubled its purchases from Germany from 46 million euros to 85 million euros.
Meanwhile, and somewhat surprisingly, Algeria was best individual customer in the first half of 2016, buying 1.04 billion euros of German military equipment, closely followed by the US, who bought 914 million euros' worth.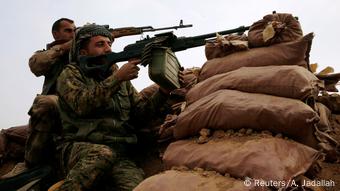 The ammo is almost certainly being used by Kurdish fighters in the battle for Mosul, Iraq
The deadliest weapons
Vice Chancellor Sigmar Gabriel, who as economy minister is responsible for Germany's arms sales, has promised to reduce Germany's exports of small arms, which are by far the biggest cause of deaths in conflicts around the round the world.
At the start of July, it was revealed that the value of Germany's total arms sales had doubled from 2014 to 2015 (from 3.97 billion euros to 7.86 billion euros) - something that the Social Democratic Party leader blamed on a few major individual sales that had been agreed before his tenure.
But Germany's anti-arms activists would not accept this excuse, saying that the German government always has the power to cancel deals. Tuesday's report appears to show Gabriel breaking his promise again, angering the Left party's arms export spokesman Jan van Aken: "We need clear legal bans, and first and foremost an immediate ban on small arms exports," he told DPA.
The Green party's Agnieszka Brugger was equally outraged by the latest figures, tweeting: "The government is throwing its own strict export guidelines in the garbage bin. No sense of responsibility!"