Ahead of the meeting, federal agriculture minister Ilse Aigner said she expected the European Union to resolve the escalating situation, which has seen milk prices drop drastically to around 20 euro cents per liter in the last two years. Dairy farmers in Germany and elsewhere say they need at least twice as much to make milk production sustainable.
Belgian farmers continued the European-wide protests on Wednesday by spraying about three million liters (790,000 gallons) of fresh milk onto their fields. This followed a protest in Germany on Saturday, in which 7,000 liters of milk were dumped in front of agriculture ministry buildings in Bonn, and a major strike in France last week, in which an estimated 40 percent of France's 90,000 milk producers took part.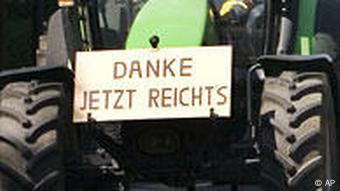 German farmers launched a protest against government inaction in Berlin in May
EU stop-gap
To assuage the crisis, EU agriculture commissioner Mariann Fischer Boel intends to present aid measures to a committee in the European parliament in Strasbourg on Thursday. The milk farmers blame over-production and a failure of the EU's milk quota system for the plummeting prices. The EU denies this, but remains divided on whether to liberalize or regulate the milk market.
EU agriculture ministers agreed to raise the milk quotas by one percent a year, and scrapping them altogether in 2015, but protest leaders said they wanted the EU to freeze these increases and create a pan-European institution to regulate the supply and demand of milk. This body is to include representatives of politicians, farmers and consumers.
Demands go unheard
"It is really sad that we have to throw away the milk," Romuald Schaber, president of the European Milk Board, said at the demonstration in Belgium where protesting farmers watched hundreds of tractors spew milk over fields. "Our demands are not being heard by the politicians."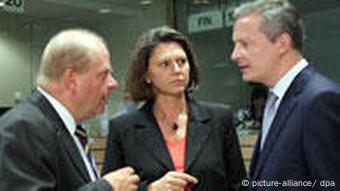 German agriculture minister Ilse Aigner met opposite numbers in early September to discuss the crisis
Belgian, Dutch and German farmers tried to prevent trucks from entering distribution and storage sites, and have tried to win public support by giving milk away for free.
A resolution seems to have been reached in Spain, where the leading farm unions have called off protests after signing an agreement on July 20 with the government and wholesalers to use collective agreements to buy milk at indexed prices.
bk/dpa/Reuters
Editor: Trinity Hartman