DW: Ms. Wagner, Gerard Mortier was one of the great innovators of music theater and simultaneously also an agitator. You knew him well. In your view, what defined his service to music theater and to the artistic scene as a whole?
Nike Wagner: There's no doubt that Mortier was one of the great and creative music theater reformers of our age. So what did he reform? I was able to watch him for decades, particularly at the Salzburg Festival. He really brought wonderful humor, verve and charm to representational culture - the arena where things had gotten lazy. In the era after Karajan, the symptoms were particularly evident. Mortier tackled the cult of stardom among performers, slackness in orchestral practice - those so-called 'substitutes,' in which the conductor of the evening never really took notice of the musicians in front of him - and narrow-minded, conservative cultural politicians and permanent ticket-holders as well.
To put the spotlight on the works themselves, he always selected pieces that offered him a chance to foster social criticism. And making the works themselves the point of departure meant bringing teams together. How would an opera sound if the conductor worked together with the stage director and the set designer? Concepts were developed - operas weren't simply rattled off.
For Salzburg's self-rescue, it was decisive to finally put 20th century composers into the program - Janacek, Messiaen, Ligeti - without, of course, destroying the festival's heritage; it's clear that Mozart, Verdi and Strauss remained as well, but were illuminated with a new, contemporary perspective. The old operas were passed into the hands of a new series of theater directors, starting with the Schaubühne [Ed. note: A major theater in Berlin] people, then came the wild Peter Sellars. With his passionate engagement and obsession with art, Mortier was able to implement his reforms despite bitter resistance from conservatives.
Mortier reformed music theater both in a creative sense and in terms of how it is managed. What will remain of this renewal after his death?
He was certainly a leader in the ranks of artists - an art person through and through, who put all of his gifts in the service of music theater and opera. He was open to all creative arenas, including the visual arts and videos - particularly as the head of the Ruhrtriennale [Ed. note: an annual arts festival in Germany]. He loved experimenting with new spaces and new tools, established new ways of hearing and seeing things. His spirit and his attitude toward art will remain exemplary, even if music theater will once again go down different paths in his wake.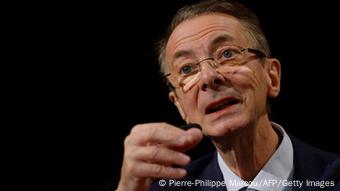 Gerard Mortier died this week at age 70
Looking back over your years with Gerard Mortier, do you have any special personal memories?
I was always a fan of Mortier and always followed his productions, whether in Brussels, Salzburg or Paris. I've always really enjoyed seeing him - with his ever fine and gentle voice - unleash provocation against the 'holy cows' like the Vienna Philharmonic, or hearing him rail against routine and dullness in the creative scene. He always hit the mark - fearlessly.
One particular memory of Mortier comes by way of the contact I had with him in fall 2008, when I applied to be a co-head of the Bayreuth Festival. I asked for his assistance and asked him to apply with me. He knew that the chances of succeeding were slim because he knew the politics that turned any hearing into a farce. Nevertheless, he delivered a grandiose speech to the committee of sponsors and confidently sketched out how the Wagner festival could be creatively renewed. Just think who Bayreuth could have had! It's clear that we didn't have a chance - everything had been decided in advance according to the wishes of the Bavarian ministry. But this is how it became evident that the foundation didn't base its decision on the quality of the applicants, but on political and dynastic considerations. The fact that Mortier was willing to get apply even though he wasn't a real 'Wagnerian' - I will always love and appreciate him for that. He went down that uncomfortable path solely based on his love of art, which was deeply tied up with his sense of artistic morality: You shouldn't leave art high and dry, not even Wagner in Bayreuth.
Mortier forced change by taking a holistic approach to music at various venues. As the artistic director of the Beethovenfest Bonn, it is felt that you will bring new ideas - perhaps even some unheard of ideas - to Bonn. Is Mortier's legacy at work here?
He had a deep sense of obligation to art and loved to experiment. Those are attitudes that I learned from my father, Wieland Wagner, and Mortier learned much from him as well. What I also need for my work in Bonn is some of Mortier's cleverness, flexibility and persuasiveness. I've seen some of his appearances in front of donors or boards of trustees. It's incredible how he managed to convince those not working in creative circles to commit themselves to art as an important endeavor. It was also fantastic to see how he succeeded in drawing people out of comfortable milieus and inspiring them by his visions of the future of art.
Nike Wagner is the great-great-granddaughter of Franz Liszt and the great-granddaughter of Richard Wagner. After her studies, she wrote scholarly and journalistic works for symposia, cultural programs and broadcasters in Germany, Austria, England and France. She also published books. In 2004, she took over as creative director of the Kunstfest Weimar, an art and music festival in that city. In 2008, she and Gerard Mortier applied to be co-directors of the Bayreuth Festival. As of January 2014, she is the artistic director of the Beethovenfest Bonn.
Interview: Adelheid Feilcke / gsw