Leaders from across the world on Saturday paid tribute to the 41st president of the United States, George H.W. Bush, who passed away on Friday at the age of 94.
German Chancellor Angela Merkel, who grew up in East Berlin, voiced "gratitude that George Bush recognized and understood our longing for the unity of Germany." She said then-Chancellor Helmut Hohl "was able to rely on this friend of the Germans in the White House."
The late president was an ardent supporter of a unified Germany as well as Western Europe as the Cold War unraveled in the early 1990s.
Foreign Minister Heiko Maas described Bush as a "great statesman and friend of Germany." Bush "supported [German reunification] from the beginning without reservations," Maas said. "We will never forget that."
'He made the world a safer place'
Others honored Bush for his role in promoting a rules-based international order.
Former Soviet leader Mikhail Gorbachev said Bush was present at "a time of great change," adding that his leadership contributed to "the end of the Cold War and nuclear arms race."
British Prime Minister Theresa May said that "in navigating a peaceful end to the Cold War, he made the world a safer place for generations to come."
New Zealand Prime Minister Jacinda Ardern said Bush "was a strong supporter of the international rules-based system, the rule of law and democratic values."
He tried to "create a new international order based on justice and equality among nations," said Kuwaiti leader Sheikh Sabah Al Ahmad Al Sabah. He never "forgot the Kuwaiti people and will remain in their memory."
When Saddam Hussein's forces invaded Kuwait, Bush launched the US-led offensive against Iraq, culminating in the First Gulf War.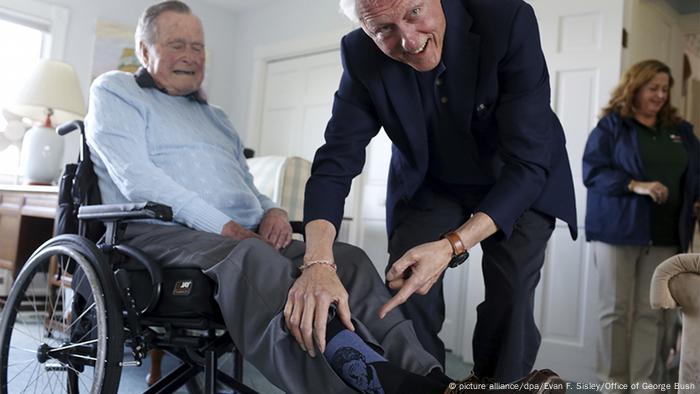 Bush and Clinton cherished each other's friendship
'Inspired generations'
US President Donald Trump said Bush "inspired generations of his fellow Americans to public service."
"George H.W. Bush's life is a testament to the notion that public service is a noble, joyous calling," said former US President Barack Obama. "And he did tremendous good along the journey."
Former US President Bill Clinton, who beat Bush in the 1992 election but went on to become good friends with his once-rival, said he "will be forever grateful for the friendship we formed."
"From the moment I met him as a young governor invited to his home in Kennebunkport, I was struck by the kindness he showed to Chelsea [Clinton's daughter], by his innate and genuine decency, and by his devotion to Barbara [Bush], his children and their growing brood," Clinton said.
Every evening, DW's editors send out a selection of the day's hard news and quality feature journalism. You can sign up to receive it directly here.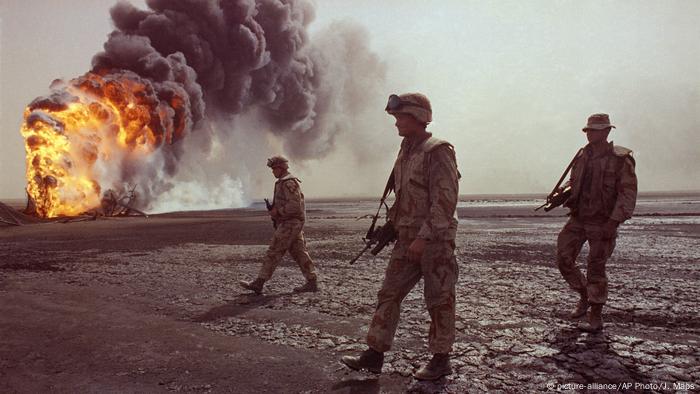 Bush ordered US troops to fight against Iraq after Baghdad invaded Kuwait
ls/jlw (AP, AFP)