Chinese scientist He Jiankui on Wednesday told a conference on genetic editing in Hong Kong that there was "another potential pregnancy" involving genetically edited embryos.
He has come under fire from the scientific community for claims that he genetically engineered twins to resist HIV using a procedure known as CRISPR. The US-trained scientist said the twins were born earlier this month.
"For this case, I feel proud. I feel proudest," He told some 700 people attending the Human Genome Editing Summit. Nine couples, all of them with HIV-positive fathers, were claimed to have participated in He's gene-editing experiment.
However, he said he would suspend such procedures for now. "The clinical trial was paused due to the current situation," He said. "This study has been submitted to a scientific journal for review."
Read more: Opinion: Why we should stop human gene editing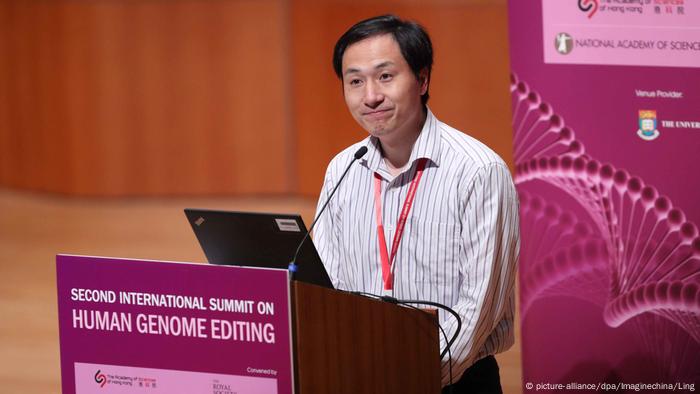 He Jiankui said he is "proud" of what he had done
'Truly unacceptable'
But He's speech at the conference was met with anger. Nobel laureate David Baltimore, who leads the conference, said He was irresponsible by sidestepping scientific norms, such as peer review. He published news of his work to date in the atypical form of a video on YouTube.
"I don't think it has been a transparent process," Baltimore said. "Only found out about it after it happened and the children were born."
There has been no independent verification of He's claim. Even scientists at the conference said his speech gave very few answers and raised many new questions as to the motivation, funding and purpose of the experiment.
"This is a truly unacceptable development," said Jennifer Doudna, the US biochemist who created the CRISPR method. "I'm grateful that he appeared today, but I don't think that we heard answers. We will need to understand the motivation for this."
Chinese authorities have launched an investigation into He's work. The university and the hospital where he claimed to have conducted his work have distanced themselves from him.
Read more: Gene editing of babies could be ethical, experts say
Every evening, DW's editors send out a selection of the day's hard news and quality feature journalism. You can sign up to receive it directly here.
ls/msh (Reuters, AP, AFP)