A Chinese scientist on Monday said he has created the world's first genetically edited babies in a controversial medical procedure that threatens to shake the foundation of bioethics.
He Jiankui, a professor at the Southern University of Science and Technology (SUST) in Shenzhen, said the twins — identified as "Lulu" and "Nana" — had their embryos' DNA changed using a method known as CRISPR.
The genes were edited to prevent the embryos from being able to contract HIV, He said, noting that the twins' father had the virus.
"Their parents don't want a designer baby. Just a child who won't suffer from a disease which medicine can prevent," He said in a video published on YouTube. "I understand my work will be controversial, but I believe families need this technology and I'm willing to take the criticism for them."
'Serious violation'
Shortly after He released the video, SUST said it will launch an immediate investigation, citing the procedure as a "serious violation of academic ethics and standards." It added that he had been on unpaid leave since February.
US biochemist Jennifer Doudna, who created the CRISPR method, said that if confirmed, He's work breaks the transparent approach of the scientific community and its use of the procedure, reported DPA news agency.
Read more: Gene-edited embryo study: A 'milestone' - or a route toward 'genetic upgrades'?
'Revolutionary'
He's video triggered a heated debate about gene editing. In the US, the medical procedure is strictly limited to laboratory research. In China, while human cloning is outlawed, gene editing is not.
The MIT Technology Review warned that "the technology is ethically charged because changes to an embryo would be inherited by future generations and could eventually affect the entire gene pool."
Nicholas Evans, a professor of philosophy at the University of Massachusetts Lowell, told AFP news agency that He's decision to announce the groundbreaking work on YouTube "is a highly problematic form of scientific practice" that bypasses norms in the community, including peer review.
"We've been talking about genetic engineering of embryos for a while," Evans said. "What is a bit more revolutionary is that these children were allegedly engineered to provide resistance to a disease. That's a new step forward, and where a lot of peril is."
Read more: Gene editing of babies could be ethical, experts say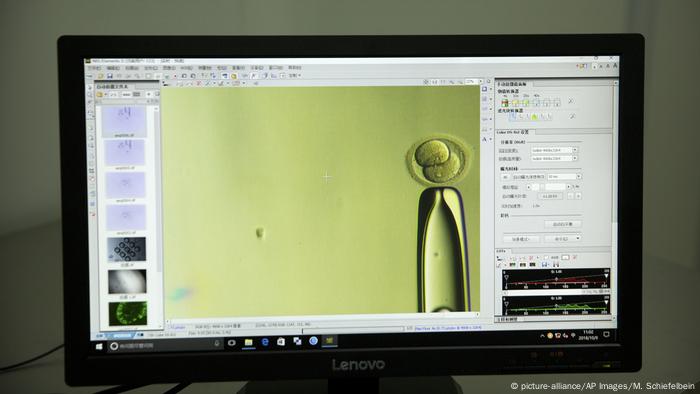 He said his laboratory in Shenzhen used a method known as CRISPR
'Right and wrong'
The announcement comes on the eve of a major conference on human gene editing in Hong Kong. David Baltimore, a biologist who chairs the international conference, said the gathering's purpose is to decide "what we consider to be right and wrong."
"We have never done anything that will change the genes of the human race, and we have never done anything that will have effects that will go on through the generations," Baltimore said in a video ahead of the conference.
Read more: Scientists warn against China's attempt to 'edit' human genome
Every evening, DW's editors send out a selection of the day's hard news and quality feature journalism. You can sign up to receive it directly here.
ls/ng (AFP, AP)