On Wednesday, Netanyahu countered his critics, including hard-liners in his coalition and residents of southern Israel, where rocket strikes have done the most damage. Netanyahu said Israel "will not tolerate" more rocket fire, and would respond "even harder" if attacks resumed.
"Hamas was hit hard and it received not one of the demands it set forth for a ceasefire, not one," Netanyahu said. He added that should Mahmoud Abbas "choose peace," he would like to see the Palestinian Authority president's Fatah faction regain control of the Gaza Strip.
Palestinians began returning home Wednesday following the open-ended ceasefire declared on Tuesday, and aid began to trickle in.
The ceasefire, which has been hailed by the United Nations and leading world diplomats, began at 7 p.m. local time (1600 UTC) on Tuesday, bringing 50 days of widely criticized bloodshed to an end. German Foreign Minister Frank-Walter Steinmeier has called for a second phase of ceasefire talks that would provide a basis for the resumption of negotiations toward a two-state solution.
'Gaza achieved victory'
Israel and Egypt continue to impose a blockade on Gaza, where borders have been closed since Hamas took charge in 2007. The Palestinian faction won legislative elections the year before and then physically ousted the Palestinian Authority. Hamas seeks the reopening of Gaza's sea- and airport, as well as the land border crossing with Egypt at Rafah. This would allow the territory's 1.8 million people access to trade and travel, rather than just the few thousand who may currently leave the coastal territory every month.
The faction will not see its major demands addressed until indirect talks with Israel begin again in Cairo. However, on Wednesday, members of the faction gave their own address upon the rubble of one destroyed Gaza neighborhood. Abu Obeida, a spokesman for the group's military wing, stood over an Israeli flag as he addressed the crowd.
"Gaza achieved victory because it has done what major armies failed to do," Obeida said. "It forced the enemy to retreat. We must know that no voice is louder than the voice of the resistance."
More than 2,100 Palestinians, most of them civilians - including about 500 children - were killed during the seven weeks of Gaza's deadliest violence in a decade. A further 11,000 people have been injured.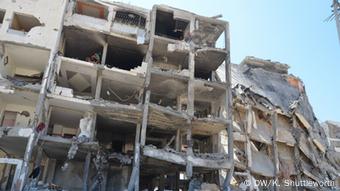 Thousands of buildings were destroyed during Israel's airstrikes and ground assault on Gaza.
According to the UN, more than 17,000 buildings in Gaza were destroyed or severely damaged during the conflict, with about a quarter of the Palestinian territory's population of 1.8 million people internally displaced at the peak of the attacks.
Israeli authorities have confirmed that 64 soldiers were killed in combat, along with six civilians who died in rocket attacks launched from Gaza.
mkg/jm (Reuters, AFP, dpa, AP)